At the 68th Cannes Film Festival
Reality stronger than Fiction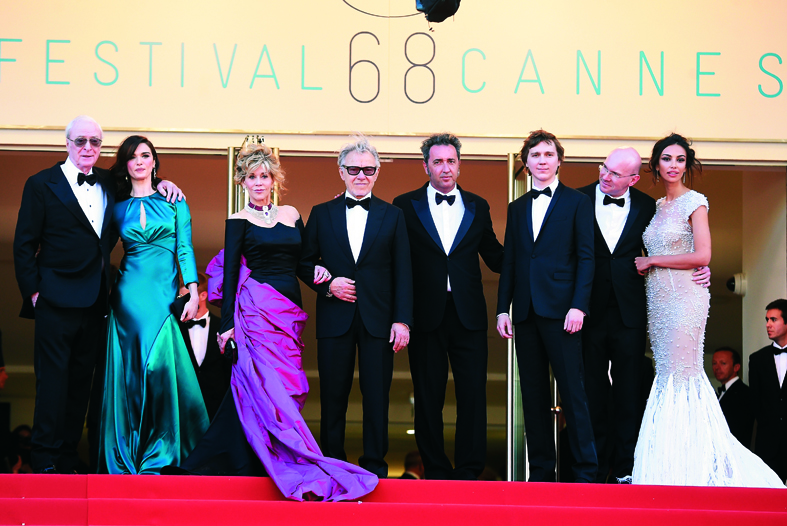 After a year's absence, I arrive on the Croisette, in front of the festival's palace, welcomed by the lovely smile of Ingrid Bergman on a giant poster. I remain a moment under the spell of the face of this beautiful actress who reminds me that of another actress, present this year as president of the jury in «Un Certain Regard». I'm obviously talking about Isabella Rossellini … No doubt, Isabella certainly looks more like her mother than her father. Good for her, Roberto was not a beauty. However if one takes a look at the new generation, on Elettra, daughter of Isabella, granddaughter of Ingrid, one is struck by the elegance and beauty inherited from her grandmother. For now, she is a model, but I would not be surprised to see her as an actress one day, too … To return to Isabella Rossellini, she thanked at the closing ceremony of «Un Certain Regard», Thierry Frémaux, General Delegate of the Festival «for choosing the photo of my mom who watches us like a guardian angel.»
I arrived in Cannes the day an Italian director, as the famous father of Isabella, was screening a film about the illness and death of his mother. It's Nanni Moretti who presents his film «Mia Madre» accompanied at the press conference by a famous Italian actress Margherita Buy. I still remember a star gracefully mounting the steps of the festival. Her first and last name are those of a true star, Catherine Deneuve. I saw her at my first festival in 1994 while she was on the jury chaired by Clint Eastwood, and then again in 2011 alongside her daughter Chiara Mastroianni. This May 13th, Catherine mounted the steps to present «La tête haute», the movie in which she plays the role of a judge for children. A film directed by Emmanuelle Bercot whom I saw later, as an actress in another film in competition, «Mon Roi.»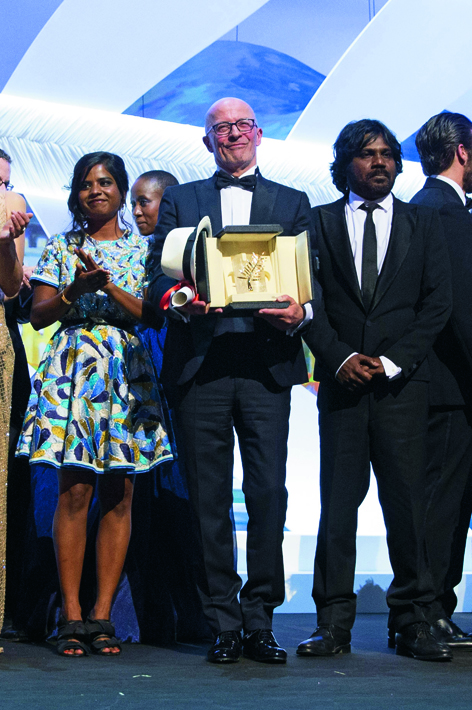 Jacques Audiard holding the Golden Palm. © Olivier Borde. © 2015 Getty images
This May 14th, Salma Hayek came to defend the colors of an Italian movie, inspired by a Neapolitan tale of Gianbaptista Basile «Il racconto dei racconti» which, according to its director Matteo Garrone, is the inspiration of all fairy tales including Cinderella. I still remember the interview and the warm welcome of Salma Hayek at her debut in Cannes as soon as she knew that we are compatriots. Moreover, what reporters did not like during this festival is the fact that the film also starring Vincent Cassel is filmed in English and not in Italian. But the director explains well his choice by saying that if he chose English is to publicize this author in the world stating that it was in Italy that he made this film … I loved Charlize Theron, all dressed in yellow, on the red carpet at the arm of Sean Penn for «Mad Max: Fury Road.» I quickly thought about this actor who was accompanied by his ex-girlfriend Robin Wright. He forbade us to photograph them together! In a recent interview of the actress, she tells her joy of leaving him.
1- Kendell Jenner wearing Chopard. © Olivier Borde. © 2015 Getty images
2- Lambert Wilson wearing Dior. © Dior
3-Eva Longoria wearing Georges Hobeika. © Olivier Borde. © 2015 Getty images
Between «Irrational Man» and «The Sea of ​​Trees» it's the will to live that prevails
On May 16th, having deliberately decided to avoid Moretti's press conference, I walk in the palace and find that a year later, the coffee whose advertising shows a famous actor, still distributes coffee to all visitors. The room adjoining the press officers allows always to connect easily, however the chairs that were often used by the journalists for rest, who must now sit on uncomfortable chairs, are removed. The computer room for journalists is the only one that is concerned to ensure even a little relaxation. I am pleased to read in the small daily where we find each day a different photo of Ingrid Bergman, at 2 pm, I could see with pleasure in Soixantième «Irrational Man», the film out of competition by Woody Allen. This is the story of a man who has lost all joy. He recovers it however on his arrival at a university as a  philosophy teacher, thanks to two women and the fact that he takes a crucial decision, following a conversation overheard in a cafe: to kill a judge. But Joaquin Phoenix, who plays this character, will not long enjoy this revival because of the young university student Emma Stone. I would not say that it is «a masterpiece», as the author admits about his film, I think it's a very good movie and I had sided with Roy.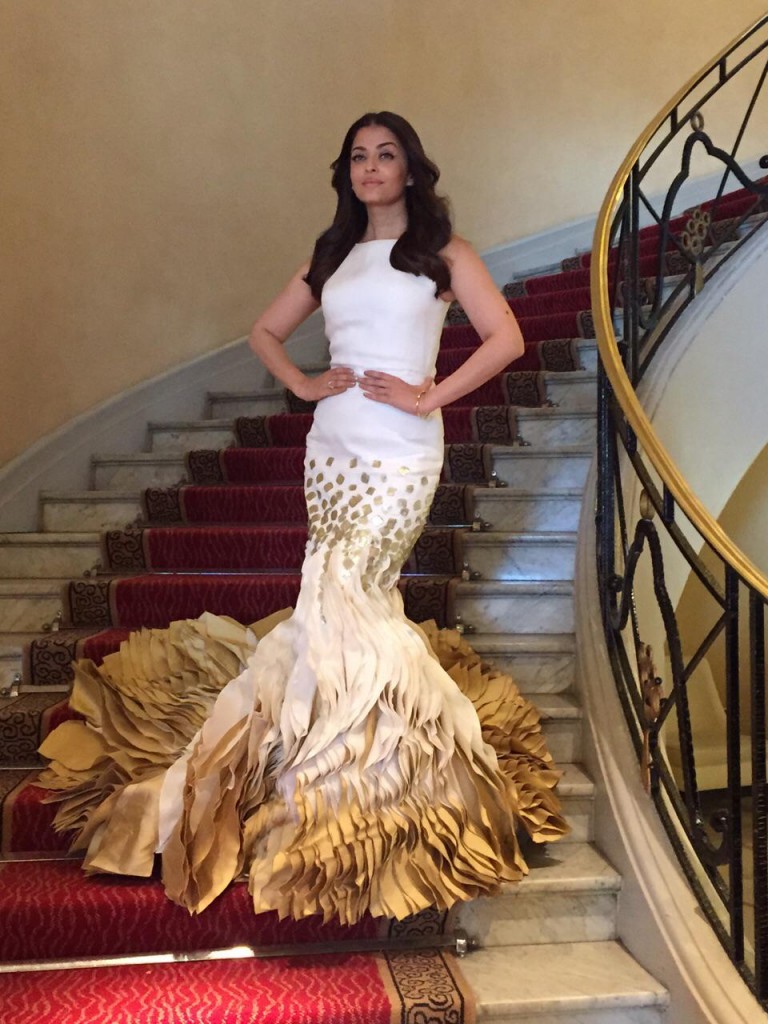 Aishwarya Rai photo in a Georges Chakra Couture Spring Summer 2015 gown  during the 68th Annual Cannes Film Festival. © Georges Chacra
I find myself right after in the press conference room of «The Sea of ​​Trees» by Gus Van Sant. This film tells the story of Arthur, aka Matthew McConaughey, who goes to Japan in the forest of Aokigahara to commit suicide. In this film booed by journalists, condemned by critics, we also find Naomi Watts. I must say that during the conference, having not yet seen the film, I was driven mainly by my curiosity to see how the American actor had physically changed since we met during an interview there in Deauville fifteen years ago. I noticed he had longer hair and how he had lost weight, but I was pleasantly surprised by his repartee, his seriousness in wanting to defend the film. Speaking of his character, Matthew said he was reluctant about the decision to take on his suicide. In reality, this is not some sort of morose journey to the end. He tries to do it but he finally rediscovers life. So he decides to give it up. Naomi, meanwhile, explained how she had to prepare, with Matthew, to shoot the film in a few days for economic reasons. «I suggested that we write every day to express the feelings that we must have, the reactions … and when we met, we were ready».
© 2015 Dominique Charriau
Cate Blanchett, alone deserved the Palm for Best Actress!
That night, I could not see «Carol», the film by Todd Haynes, when projected to the press because the queue of journalists both before Debussy's projection room as well as Bazin room was impressive. Normal, for nothing in the world colleagues would miss a movie starring Cate Blanchett.
On Sunday May 17th in the morning, I decided out of curiosity to attend the press conference of the film «Mon Roi» by Maïwenn, especially for Vincent Cassel, that I like. He is there even more beautiful with age. Present at the Salle Lumière alongside the actress, the director of the film as well as Louis Garel who plays the brother of Emmanuelle. The latter was also in Cannes in the section «La Semaine de la Critique» as director of a film entitled «Les Deux Amis». On this occasion, Vincent said that, playing in French, his mother tongue, he could be relaxed and playing with words. «This would not have been possible for me if I was speaking another language in a movie.» Knowing that, just after, there was another press conference for «Carol». I decide not to move to see Cate Blanchett. And here I am pleasantly surprised to find a high-class star, with a breathtaking elegance … She answers along the meeting tit for tat with simplicity and natural, she does not lack humor either.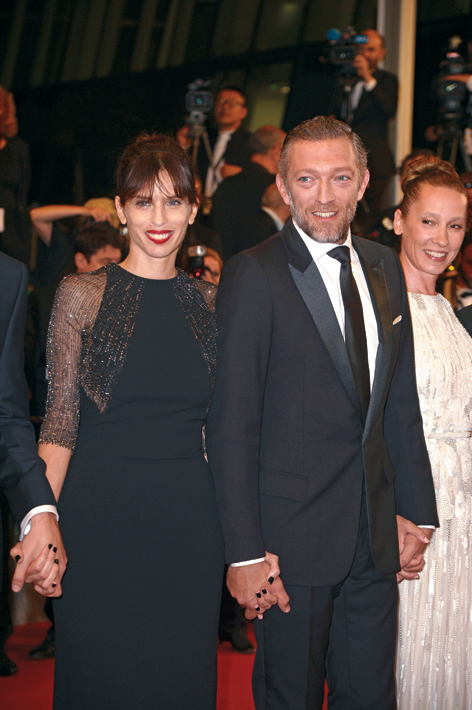 I've seen during the session of the second day, May 18th in the Soixantième room, the two films, «Carol» and «Mon Roi» one after another. Unlike my colleagues, I appreciated them. Especially  Cate Blanchett in «Carol». I would have hoped that the jury gives her the Palme for Best Actress for her and not tied with Rooney Mara and Emmanuelle Bercot. Both films, in any case, talk about love, passion and children used to blackmail women by their husbands. In «Mon Roi» Emmanuelle is madly, passionately in love with an unfaithful man, liar, jealous of her professional success … up to threaten to take away custody of their son when finally she managed to break free of his grip … role of Giorgio, excellently played by Vincent Cassel. Besides, during the press conference, as in the awards, the actress made it clear that Cassel had really helped by being as natural as possible to interpret Tony. The interpretation of Emmanuelle Bercot, in my opinion, was good but did not deserve the Palme even tied with another actress. I feel in this choice the pressure of Sophie Marceau, jury member.
«Carol» tells the story of a beautiful woman, distinguished, of the big bourgeoisie, which, in 1950, in a department store, meets a sales woman. They fall in love with each other. But they must face the conventions and problems. Carol aka Cate Blanchett was threatened by her husband,  jealous and in love to forbid her to see her daughter. Rooney Mara, the salesperson is more free but must actually bully her love. And until Carol decides to live her life without hypocrisy, refusing to yield to the blackmail of the husband. I found this film very beautifully filmed by Todd Haynes and without voyeurism. Why the jury chose Rooney instead of Cate? Jealousy of the jury actresses? Mystery.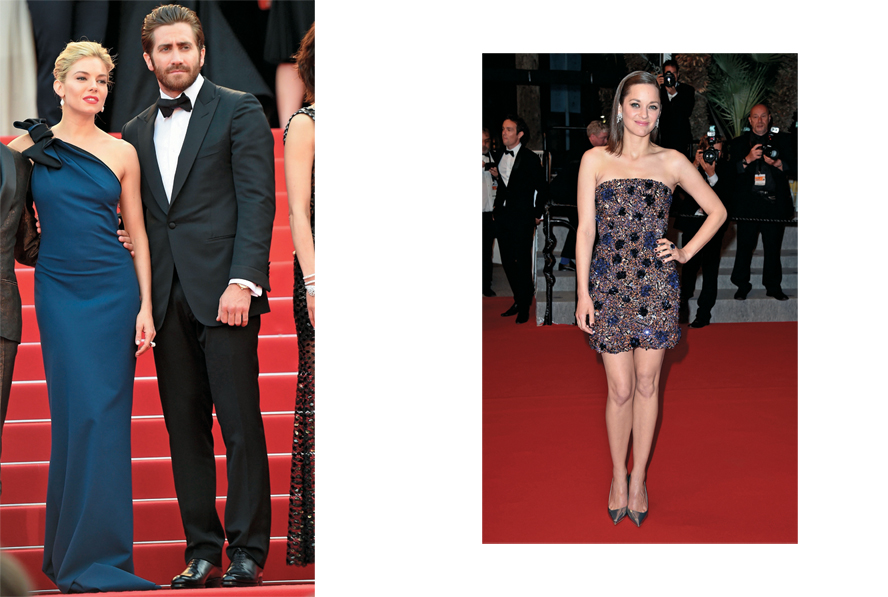 Sienna Miller wearing Lanvin and Jake Gyllenhaal. © 2015 WireImage     Marion Cotillard wearing Dior. © 2015 Anthony                                                                                                                                                                                       Harvey
«Amy Winehouse» unforgettable voice told in a beautiful documentary
Getting back to this Sunday, May 17th, around 2 pm, I attended a very moving superb documentary about a singer that I really appreciated, but unfortunately she died young, Amy Winehouse. At the end of the projection I almost regretted having as estimated because I, like thousands of fans caused unintentionally, perhaps, her death. The documentary, signed Asif capada, follows the theme of the song lyrics Amy wrote and that told her life. The problems of a girl who at first sought above all the love of a father who had abandoned her when she was a child and who returned when she became famous. She has always sought his approval and when her best friends advised her to rest a little, her father urged her to go on and to continue appearing on stage. He did not want to believe that she suffered from bulimia, and needed help. In «Rehab», she almost makes a tribute to her father's decisions. There is also the man she loved, the one who has driven her on the road to drugs, she who was already an alcoholic. Her lover who was not working, but needed money to shoot himself, also took advantage of her … It was at the moment when she decided to resume her life that she dies with an overdose of alcohol. Her heart was weak, could not bear.  Shame …
On Monday May 18th, after attending the screening of «Mon Roi» and «Carol», I decided to take a tour, about 5 pm, between the stalls of the film market, get out of the palace and take the path along the shore, the pavilions. My surprise was great to discover that to enter the American pavilion, you had to pay 20 euros. I return to the «short animations» stand where a sponsor offered to all aperitif. I discovered to my surprise that there was, among the competitors in this section, a Lebanese, Ely Dagher, who received the Palme d'Or for his short film «Waves' 98». This afternoon, in reality, between a drink and another, I was chatting with one of the directors of these short projected especially in «corner» and not in the competition; she told me her film which evoked the problems of her region in the United States.
At 6 pm, I stand before the Debussy Theatre to see «Marguerite and Julien» by Valérie Donzelli at 19h 15. After a long wait, I am rather disappointed by the film, which is inspired by a true story of the late Middle Age. It tells the impossible love between a brother and a sister. The originality of the film returns to the fact that it was shot in the castle in Tourlaville even where the true protagonists lived. And the actress Anaïs Desmoustiers under her ingenuous air of 28 years old, still camped ambiguous characters, as in «Une nouvelle amie» for example.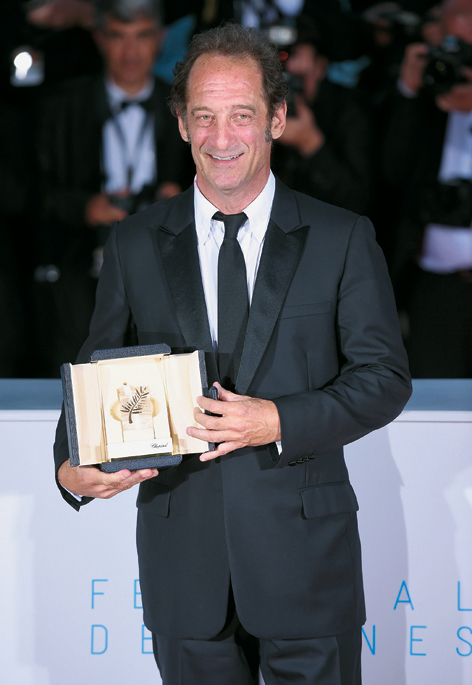 Indian youth in Masaan looks to the future
On May 19th, I found myself in the Soixantième room by «La loi du marché» by chance, having claimed that I did not like Vincent Lindon since the day, some years ago, I had to battle, as well as other journalists, to succeed an interview scheduled with him. His words were counted. However, I admit that there in this film where he speaks little, but plays well, I liked him. The subject of the film is hard. It tells the story of a man of the middle class, who is found overnight unemployed with family dependents. But who fights his way to find work as a security officer in a supermarket … Leaving the movie I thought that now I will look with new eyes at the brutal world of supermarkets, and I found that Vincent Lindon deserves a palm. The jury seems to have agreed with me.
«Do not go see «Louder than Bombs» my friends told me, it is not worth the trouble». I was hesitant, because as Lebanese, I do not really like movies with bombs. But the fact that the main actor is Gabriel Byrne, has sharpened my curiosity. I did not regret, because for the first time, we talk about these war reporters and their difficulties on their return home to integrate into everyday life. Byrne who plays the role of the husband of the famous photographer Isabelle (aka Isabelle Huppert), died from an ordinary car accident near her, interpreting a beautiful dad.
I decided in the late afternoon of Tuesday 19th to go see a movie in the «Un Certain Regard» section. Its title was «Masaan». I did not know the nationality of the director but to my surprise I see arriving, just at the beginning of the screening of his film, the Indian director Neeraj Ghaywan, so beautifully dressed with all his interpreters all as beautiful as each other. Two stories in this film, talk about traditions that young people would like to be free of. All this is happening around the holy river Ganges and after great suffering, hope seems to happen in front of them. This film was awarded the prize of «L'Avenir» of the jury.
With «Youth», screened on May 20th, the film by Paolo Sorrentino speaks about seniors with humor and tenderness. Italy hoped through the interpretation of Michael Caine to get at least one prize. But during this closure night, they are disappointed to return empty-handed despite the present three films in competition including the ones of Garrone and Nanni Moretti. The latter, however, won the prize of the ecumenical jury with his film «Mia Madre».
What about the movie «Nie Yinniang» this beautiful film I have seen with pleasure on May 20th and that deserved a prize other than Best Director? Why not the Palme to the Taiwanese Hou Hsiao Hsien movie which speaks of a female assassin in the China of the IXth century, so well with beautiful images? I was not enthusiastic to meet on May 22ndGérard Depardieu and Isabelle Huppert in «Valley of Love». Thanks to Petit Prince revisited by Mark Osborne, one could dream a little in this festival with black stories told over the films, but often with glimmers of hope for a better future.