Wadih el Safi
Prestige issue 64, September 1998
Born in 1921, Wadih Francis became Wadih el Safi at 17 years old. The directors of the Lebanese Radio have decided so, for this young man who won top national voice of the song contest. This Safi surname, pure, will accompany some 50 years dedicated exclusively to exalt Lebanese Tarab. Wadih el Safi sang Umm Koulsoum and Abdel Wahab before composing his own music and enriching our musical heritage with over 1000 songs. Many songwriters have written for him poems with simple, powerful language, which will pour all the nostalgia of the soil. Rabih el Khawli, Pascale Sakr, Nohad Torbey, Ghassan Saliba will listen carefully to the advice of the master. Like many other Lebanese, Wadih el Safi had one day to leave his country. But this voluntary exile that led him to Paris turned into a mission for peace, a «propaganda» for Lebanon that he knew so well to sing. Messenger of the Cedars, he often expressed the sadness of the migrant and his eternal dream to return.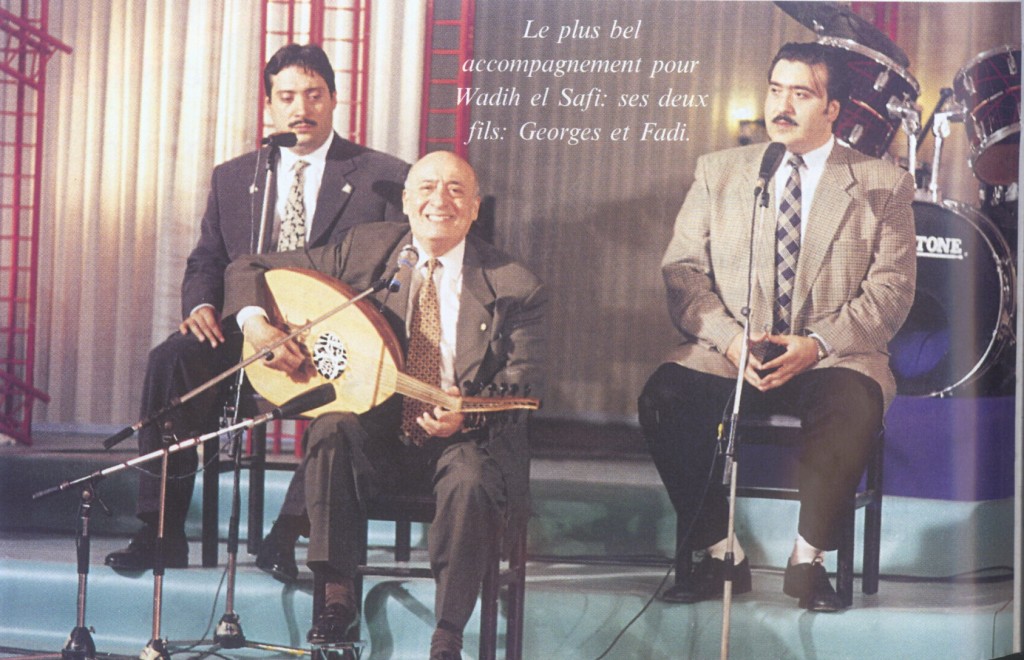 Impossible to summarize my meeting with this tarab virtuoso in a classic questionnaire, that cannot penetrate the heart of a life of this stature, inseparable of the history of Arabic and Lebanese songs. At Wadih el Safi home, a whole family warmth engages the visitor. An oriental serenity cottage reigns in every corner. He takes refuge with his oud, raising his soulful voice, he composes types of music that are eternal. I met him with his big family to whom he dedicated his life and his art. Speaking with Wadih el Safi, it was like reading a book with countless pages. While I was addressing to him, he pulled of his oud some passing melody.
«The oud was my companion on my first artistic awakening, the accomplice of my solitude when I retire within myself. And I keep for it a place of honor in my house»
This oud that you always stick to, what role does it hold in your artistic life? Who owes the most to the other? He laughed, throwing long glances at his wife Omm Fady, who followed our conversation. My oud is the beloved one, the rival of Omm Fady who competes with her for a place in my heart. My family and I owe a lot to the oud, it is for this reason that you see me surrounding it by all care and consideration. I keep for it a place of honor in my home. It has been my companion on my first artistic awakening, the accomplice of my solitude when I retire within myself, and when I take refuge in prayer, it is there to raise my praise to God.
For some time, in fact, you have been oriented to the liturgical and religious songs, is it your intention to crown your career by dedicating your voice to God after dedicating it to people? I think it is my duty as an artist to express my gratitude to God who has donated me this voice.
Getting back to your wife who competes with the oud for a place in your heart, how did she react against other rivals, I mean your admirers? Omm Fady occupies a huge place in my heart, but like all wives, she does not always manage to escape the grip of jealousy.
Are you the type to respond to the advances of your admirers? Am  I not over the age of having admirers?
I doubt that a star like you is not pursued by admirers. On a serious tone. I strongly believe in family life. And it is not permissible that the deceptive appearances of showbiz force their wicked ways inside a family to destroy it.
I'm not one to trifle on the issue of admirers, although I am grateful for them to love my music.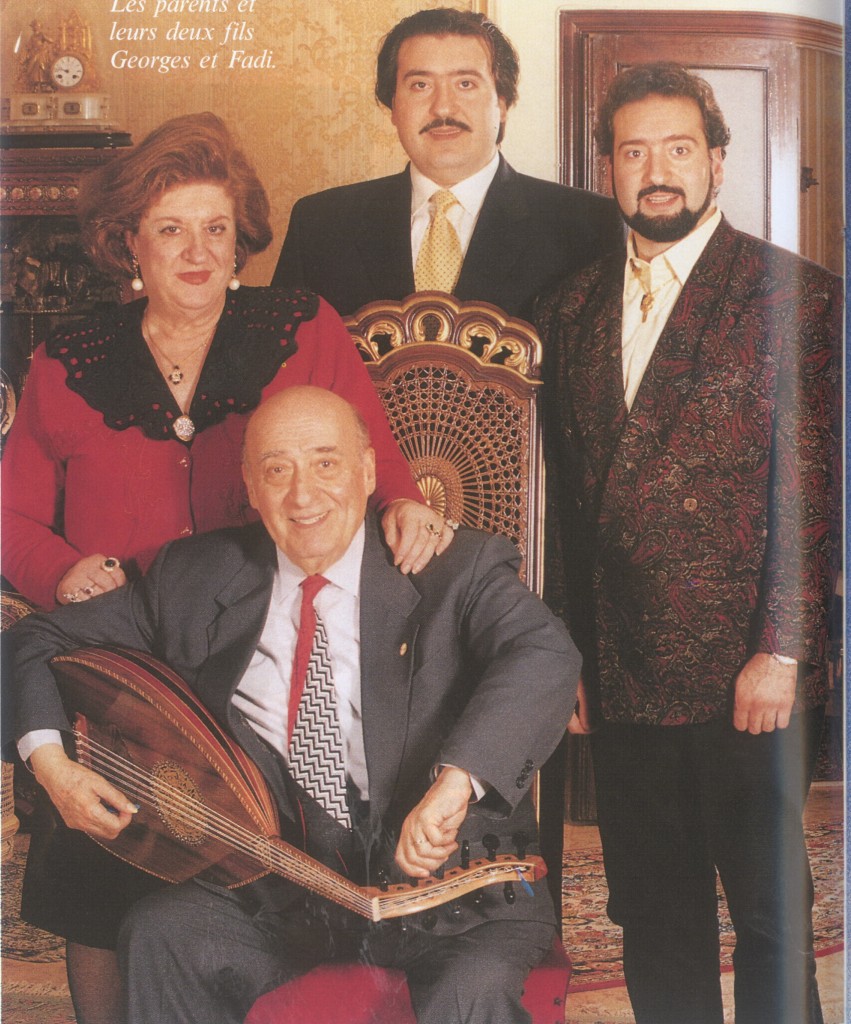 © Prestige / Joseph Kordahi
The parents with their two sons Georges and Fadi. 
You're one of those giants such Feyrouz and Sabah that have made the greatness of traditional Lebanese song. Do you maintain a friendly relationship with them? My relationship with Fayrouz and Sabah is limited to mutual respect. I have consideration for these ladies of the Lebanese song.
Do you visit each other for special occasions and holidays? Well, no, we are not so familiar but we have been in contact on some occasions such as when Fayrouz called me to congratulate me for being decorated. I was touched.
You have participated in important plays of the Rahbani such Kassidet Hobb alongside Fayrouz and Nasri Chamseddine and Mawsem el Ezz with Sabah … but your relationship with the Rahbani remained tense, hostile. What is the reason? My relations with the Rahbani family are not hostile. I have participated in some of their plays but circumstances have ended our collaboration.
Ziad, son of Aassi Rahbani and Fayrouz denounced your interview in the television talk show Hiwar El Omr hosted by Gisèle Khoury and in which you stated that you were alone worth all the Rahbani … Is this true? Who said that? That's what Ziad says and not Wadih el Safi. This is absolutely false. And I am surprised that the son of Fayrouz actually said that.
Young singers imitate professionals like Wadih el Safi. In your opinion, which of these newly arriving to the song truly belongs to your school, which have a promising future? I very much like the voice of Mou'in Chraif which is extremely beautiful. And I predict a bright future for him.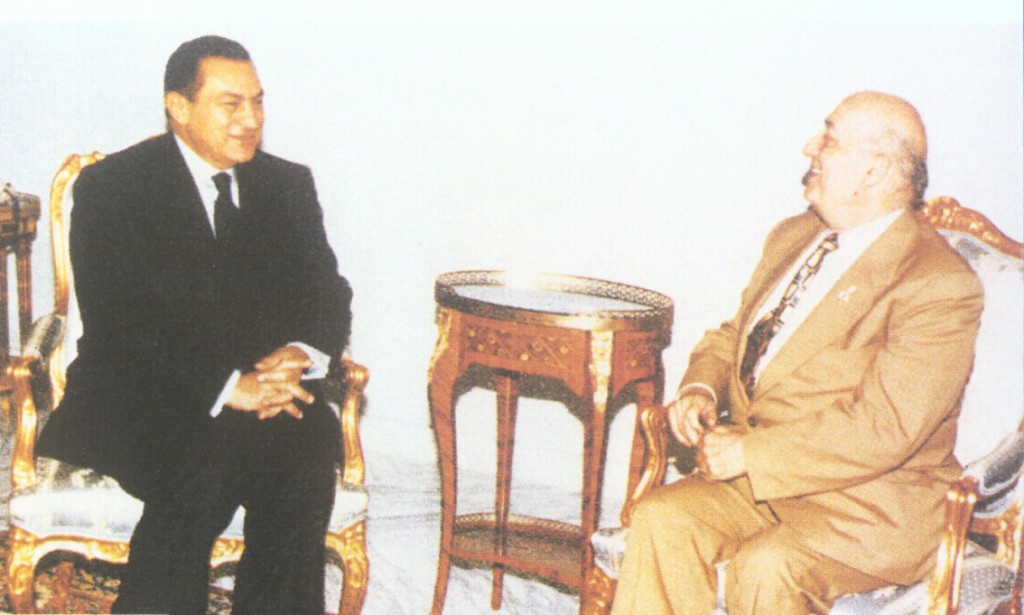 What about your sons, some have turned to the song. Do you encourage your children to work in the showbiz? The voice of George resembles mine through its intonations, but circumstances have not helped him to prove himself. I still think he is part of those who could make their mark in the world of the song if given the chance. Same thing for my son Milad who is charismatic and close to people. As for Fady,  he is the manager of the band and is responsible for distribution and technical details of the music.
You did not have any objection on your sons making a career in the song? You were however opposed that your sister Hanaa el Safi follows the same path. Why? Because the show business is a thorny path that injures the feet of those who use it. In our conservative Oriental society, showbusiness is not suitable for women.
According to our family traditions, I do not admit our women making career in showbusiness, because of the pitfalls and unforgivable missteps, while males are able to realize and evaluate the risks and avoid them. I would add that my daughter has a beautiful voice, but as I said, our family traditions prevent women from pursuing a career in the song.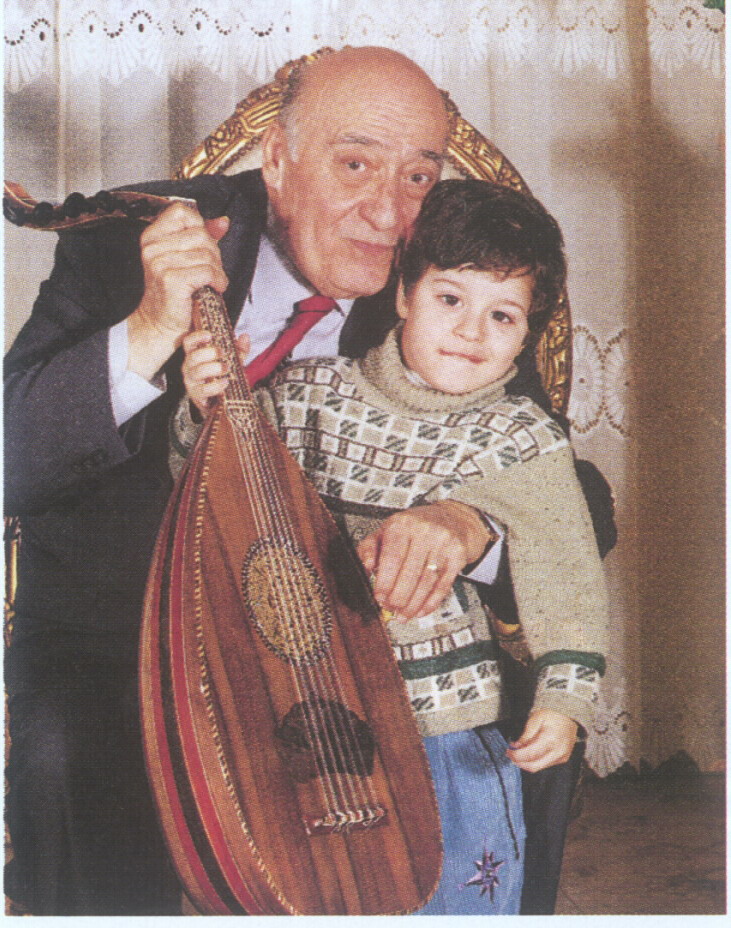 But there is still an exception …  You encourage your daughter-in-law Siham el Safi who also has a beautiful voice. I encourage her, but she sings under the protective wing of her husband and she compelled herself to a rigorous discipline and has set inflexible rules of morality.
You have been naturalized Egyptian, which has drawn criticism denouncing your fake loyalty to your country, Lebanon, of which you sang every grain of earth. Egyptian nationality is a bit for me the Legion of Honor to add to my other decorations. I consider that, as a state, Egypt has made me more honor than my homeland. But also, affection and consideration of the Lebanese public is the best tribute I can receive. JOSEPH KORDAHI