Prestige issue 269-270, Dec. 2015-Jan. 2016
Sculptural, Sublime… and Simple
For a short time in Lebanon, the famous model, actress, producer, jewelry designer and lawyer Paulina Nemcova has lost nothing of her aura of surprising simplicity. Majestic, with sculptural forms, she tells Prestige about her rich career but also her beautiful childhood dreams.
Fur and pants, all Georges Chakra. Diamond ornaments, Tufenkjian Jewelry. © Prestige / Photo: Jean Claude Bejjani
Paulina, you are in Lebanon for few days … Do you know the country well? Not enough unfortunately. This is only my second visit to Beirut. I am delighted to be here again and I feel really well in your country. I think that Lebanon is a great country with many advantages.
You were born in Czechoslovakia, your father was an engineer and your mother professor of Russian and history. Tell us about your childhood … I had the chance to have a happy childhood thanks to my parents who raised us, my two brothers and me in a real cocoon of affection by transmitting moral values that seem to ​​me today indispensable. Little girl, I was not very different from my comrades. I could practice ballet, skiing and gymnastics. I am very grateful for the support and encouragement from my parents, who pushed me to work, which gave me the necessary base to fulfill my professional life.
You were discovered at the age of 16 years … How did it all begin? How did you convince your parents to let you stay in Paris to become a model? I actually was discovered at the age of 16 years in the streets of Prague, by a lady who was seeking new models for one of the best agencies in Paris. This woman was one of the first to prospect in the countries of the former Eastern bloc. I was very surprised by her approach, at the time I knew nothing about the modeling career. The idea of ​​being able to visit Paris at my age was wonderful, a real girl's dream. Then I managed to convince my parents to let me make this trip. Their agreement delighted me even though they obviously had some trepidation.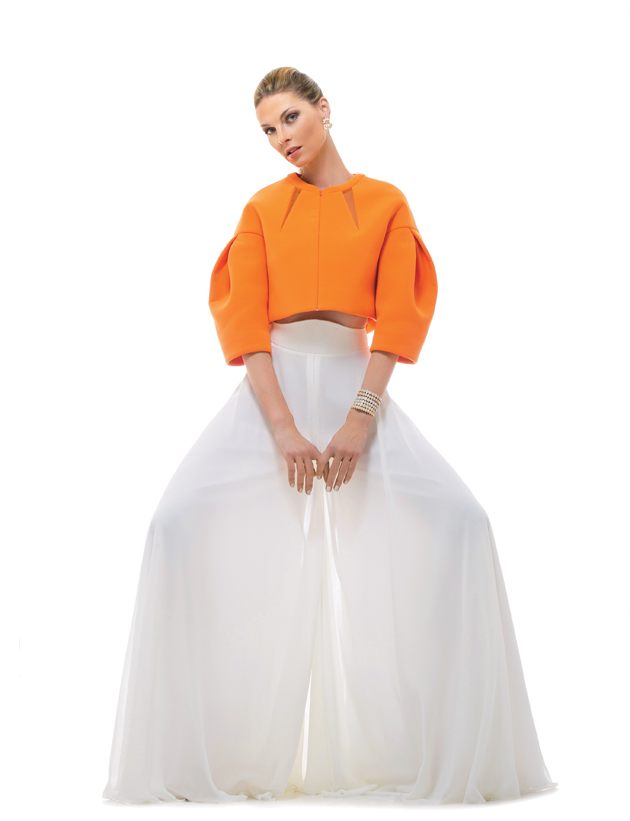 Top orange and large white trousers, all Basil Soda. Earrings and bracelets, YvanTufenkjian.  © Prestige / Photo: Jean Claude Bejjani
Your career took off in Paris. You make campaigns for Celine, Cartier, Dior … You make photo sessions for renowned photographers like Tyen, Pamela Hanson, Andre Rau, Patrick Demarchelier … You are in Elle, Vogue, Cosmopolitan … How difficult was it to achieve something into this world while pursuing law school? Through the discipline that my parents instilled in me during my childhood, it was not so difficult!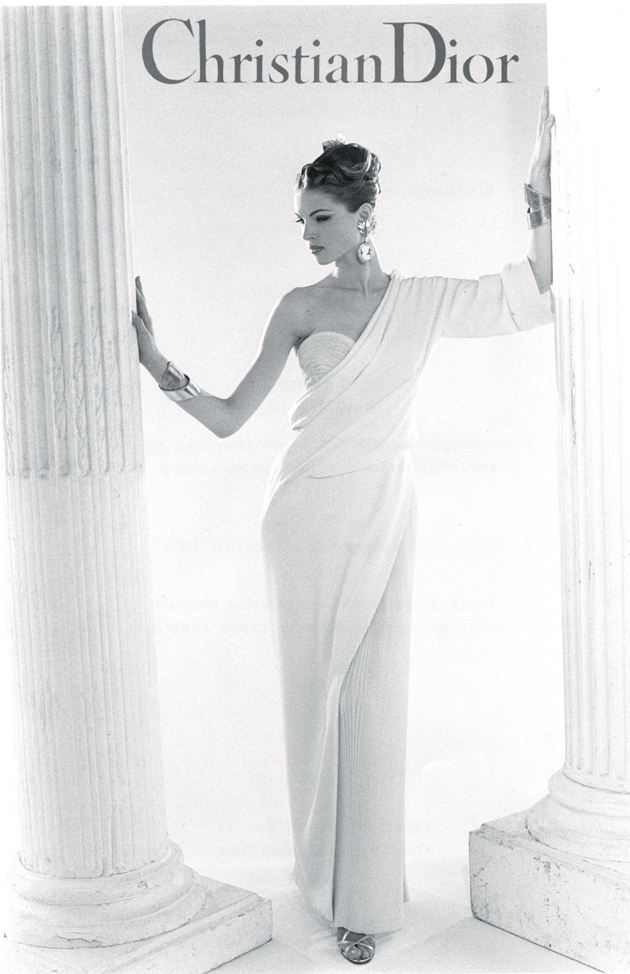 Paulina was in advertising campaigns for numerous brands including Christian Dior (pictured), Celine, Cartier, Lejaby, Clarins …© Archives Paulina Nemcova
What are your best memories of that time? Simply all.
And the worst? Perhaps loneliness. In this environment, we are quite alone, even if one is surrounded by people. The word «lonely» seems more appropriate.
Did you feel some pressure regarding your weight? I am fortunate to have a favorable morphology! I never really needed to restrict myself.
How do you see the modeling world today? I think we are not all equal. Some people may have more facilities while others have to «kill» themselves at work. I find it difficult to reconcile the modeling business with our life when we should restrict ourselves to suffer. Maybe would it be better to find another domain of work in these cases.
fur stole, Georges Chakra. Earrings, ring and bracelet, all YvanTufenkjian. © Prestige / Photo: Jean Claude Bejjani
You are now an actress, you played, among others, alongside Marion Cotillard in the movie «La Môme» … What attracts you to the world of cinema? What attracts me is the representation of the human spirit. Many wonderful roles allow us to enter the mind of a person and discover the different moods. A good actor is one who can show internal dualities of his character.
What is the role of your dreams? Whoever could just allow me to show what we have just mentioned.
Red dress Basil Soda. Necklace and earrings in diamonds, YvanTufenkjian. © Prestige / Photo: Jean Claude Bejjani
«Being able to visit Paris at 16 years was a real girl's dream.»
With which actor and actress would you like to work? Which director? And why? It would not be fair to name a few. The list is long either of actors, actresses and directors.
You were also in the movie by Patrice Leconte, «The War of Misses» … Is there a «war» between the models? I never lived this kind of war, maybe I was lucky. I think from a certain level, the «war» is no longer relevant.
You have even started your own production company … What projects are you working on? I launched a project that aims to achieve an adaptation of the book Quatre-vingt-treize by Victor Hugo. It is a work that seems perfectly placed in today's context and changes that may be necessary. In parallel, i started my own jewelry brand («Gioia by Pavlina Nemcova»). My design guidelines are in their subtlety, finesse and the ability to be worn daily. As its name suggests, Gioia is joy. It is a joy for me to create and I want to transmit it to women who wear them.
Today she launches her own jewelry brand, «Gioia by Pavlina Nemcova» for which she is also the muse. © Archives Paulina Nemcova
Are you a heart to take? What are you looking for and what quality you prefer in a man? I look for love, security, love and my other half. A man with character.
Paulina, you are not your age! What is your beauty secret? My only beauty secret is sleep!
What is the best beauty advice that you were given? Again, sleep well and find an inner balance to feel good with yourself.
White Dress, Basil Soda. Watch, Audemars Piguet. © Prestige / Photo: Jean Claude Bejjani
From Prague to Paris A path crowned with glory for Paulina Nemcova.
What is your main trait of character? Stubborn.
What is your main flaw? Stubborn.
In three words … Stubborn but nice.
What is your guilty pleasure? Chocolate.
What is your favorite dish? The duck prepared by my mother.
What is the essential piece to your wardrobe? The little black dress.
Your definition of elegance … Simplicity and red lipstick.
Look for the day? White shirt, jeans and sneakers.
For an evening? A simple dress and heels.
During the holidays you do not separate from … The elastic in my hair.
The Lebanese woman is … So beautiful!
What the future holds for Paulina? I would like to know! I especially hope my jewelry brand appeals and find its customers. I also want to develop the brand and diversify products.
Who says New Year, says new resolutions. What will be yours for 2016? I never set resolutions fearing not to be able to respect them. I progress daily by learning from my mistakes.
What are your wishes for the festive period of Christmas and New Year? Spend Christmas with my family, those I love and cherish the most. For them to be healthy and happy! Interview by Maria Nadim.
Photographer: Jean Claude Bejjani
Styling: Exposure Studios
Hair & Makeup: Dessange Salon