From the Collection Spring Summer 2017 by Lanvin. © Lanvin
As part of the Paris Fashion Week, Prestige interviewed Bouchra Jarrar, the new artistic director of Lanvin between two fashion shows. At the helm of one of the oldest houses of Haute Couture since March 2016, she presented her first collection of Ready-to-Wear Spring-Summer 2017 for the house. Impressions.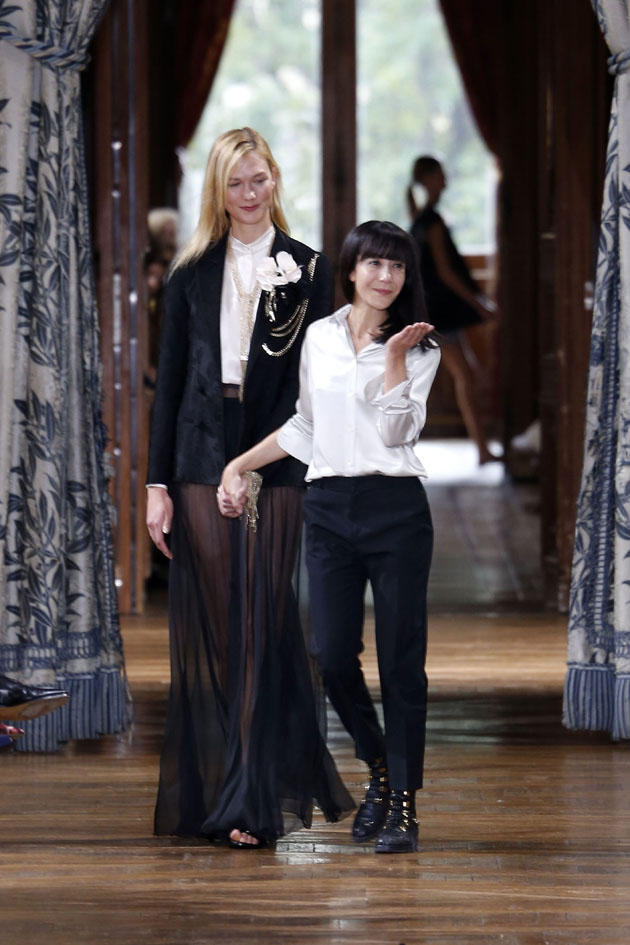 Bouchra Jarrar, artistic director at Lanvin. © Lanvin
My designs are intended to a wide range of women
You are the new artistic director at Lanvin since March 2016. What are the challenges that we could face when creating for an already established brand, and how do you respect the codes of the brand while putting your personal touch? The house has its codes but each designer has also brought his codes in the house. Today I bring mine which are inspired by the name of Jeanne Lanvin. My inspiration was amplified by the history of this extraordinary woman. Her fashion was of an unprecedented modernity, and what interests me is to make an up to date fashion.
A timeless fashion too. What has inspired you in the new collection? It was important for me to express a very broad femininity through this beautiful proposal that required a strong decision on my side to close my house. This is a strong gesture I offered to Lanvin, to be fully there. With this first fashion show I could establish the new codes of Lanvin of this new era that I open.
There was also a bit of masculinity … Yes it's in the genes of the history of the house. Jeanne Lanvin created for men too, that's why she created such beautiful things for women. Today we live in times when genres are mixed and united, but the fashion that I bring to the house is extremely feminine.
There's also fluidity …Lightness is very important, even in extremely fluid tuxedos, extremely light. It is important to be in a nice comfort but with good appearance.
Was it easy for you to make that decision to shift from Bouchra Jarrar to Lanvin? That was very thoughtful. This proposal was a nice surprise.
Is it easier to express your fashion ideas under your own name? As long as we talk about creativity, it's perfect. Today it is a real pleasure for me to speak on behalf of Lanvin, but I remain who I am. While I have deep respect for the fashion history of this house, I address my fashion to all women.
There is a lot of comfort also in your clothes, we need to feel good inside them, is it something important? We can wear Haute Couture clothes at Lanvin while being relaxed. Beauty for me is a hyper structured woman and relaxed at the same time.
Do you think that being a woman who creates for other women changes things a bit? For me fashion has no gender, there is room for men and women, but as a woman, I know what a woman can feel and how she is made.
Who do you think is the Lanvin woman? There is not one Lanvin woman, there are several Lanvin women. It is a sublime house which crossed time for over 100 years. I try through my creation to widen the spectrum.
The Oriental woman can recognize herself through your collection, there were caftans that could please mostly the middle eastern woman? You are speaking about the very fluid combi-pants. I didn't see it this way but that's magnificent.
At a certain time, fashion was limited by borders, Jeanne Lanvin made collections specific to some markets? Jeanne Lanvin had interests in many countries, she made books on Peru, I think she was someone open to the world. I have always been driven by French fashion and being able to launch it in a universal way is what's important.
The fact that fashion has no boundaries, is it an advantage or a disadvantage? It's an advantage. What's important in the realization of a collection, is to offer different shapes, different flexibilities, different lengths, it is great to make a big collection because the most important is being able to meet all requests.
If you had to describe briefly Lanvin? What did you feel? These are things that I felt before, for me femininity is sensuality, it is the strength, it is grace, energy, tenderness. Clothes are our best friend, they must give us confidence, we need to feel straightened up.
When you prepare your first collection in a house like Lanvin, how do you manage the stress of expectations? I manage stress by keeping it inside because I do not want to pass it on to the teams. I like working in a positive energy, that does not mean me that it's very quiet on the inside … I remain extremely focused on my work to free myself from any pressure. I must remain calm to give the best of myself to the house.
Do you read the reviews? Yes, I read people that I love, but I always look for the positive. As the collection was sublimely welcomed, I was very happy for the house and for all of us.
In your opinion, what is the essential piece to a woman's wardrobe? It is important to have a pants shape, whether fluid or highly structured, it is important to have a silhouette skirt and a dress silhouette. And above, a woman must think of her coat, wearing her shoes and choosing her bag (laughs).
Do you have a message for our readers? I'd love to meet this culture, meet the women who love fashion so much. There are wonderful artists emerging from your home country. This culture must be amazing with all the beautiful and hard things experienced, which forge exceptional people. Interview Conducted in Paris by Maria Nadim