Prestige issue 266, September 2015
Interview conducted by Maria Nadim
«Officine Panerai watches are Italian Swiss made»
Prestige met Milvin George, Panerai's regional director during his visit to Beirut. He explained the link between art and Panerai watches by evoking the heritage of the brand related to Florence, the sea and mariners world.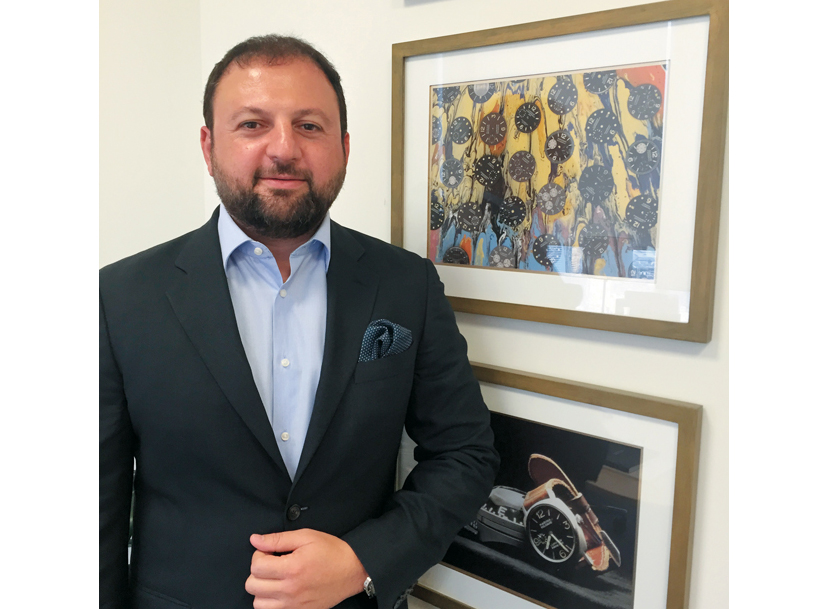 Milvin George, Panerai's regional director for the Middle East, Turkey and India, standing beside Sunflower Spin painting by artist Damien Hirst with Panerai dials. © Officine Panerai
You are participating in an art exhibition, what's the link between art and Panerai? Our watches, have a lot of craftsmanship, a lot of art. Panerai watches have a clear design oriented case with simple dials, it is a brand with watchmaking heritage. There's a lot of human element in watchmaking, from design to execution. Personalization of the watches could be made by engraving something special on the back case, these are common denominators with arts. Since six years we have sponsored the art exhibition in Delhi, today we participate in India art fair, that gather over 100 galleries from all over the world, there's a lot of interest in Indian art and art coming from developing countries, new artists like Kapur. In Beirut, we do Beirut art week as well, the exhibitors from Beirut art week came with a brilliant idea to exhibit art outdoor, so every year we come back and we work with a local artist, where we can create something linked to the brand, that we exhibit in front of our boutique.
With which artist you are going to participate this year during Beirut Art Week? We will collaborate with Lebanese Artist Nabil Helou who is working on a sculpture. The brand has also been involved in art & design expositions on an international level. We previously collaborated with UK artist Damien Hirst who made a special painting with Panerai dials. Recently this year, we took part in Fuorisalone (Milan design Week) and we are currently present in EXPO 2015, the universal exposition held in Milan, by donating the world time clock to the info point at the Expo Gate.
You introduced for the first time engraving on the case of the watch, with Radiomir Firenze? Yes, we made 99 watches dedicated to our boutique in Florence which are sold exclusively in our historic boutique in Piazza San Giovanni. We are paying tribute to the city of our Origin by carrying out special engraving on the case of Florentine emblems. All these watches are very personalized and handmade by expert Italian Craftsmen, which make the Radiomir Firenze special edition very unique. It is a piece of history & a collectable piece which makes it a challenge to deal with the demand and the customers. It goes in the direction of the brand, since we are exclusive and all our production is made in limited number.
Officine Panerai: Radiomir Firenze, special edition engraved by hand by expert italian craftsmen. © Officine Panerai
So in your opinion, who is Panerai target market, beside the collectors? The mariners, people who love the sea, we were born out of the sea. We are a watch made for the Italian navy, for their missions. The customer who understands Panerai history falls in love with the brand. Not to forget to mention the quality, the standard, the design, the in house movement. In Lebanon we have a good number of female customers, it's a bit daring to wear Panerai because it's a big watch. So it defines a lot of confidence that you're not giving away your feminine side.
How do you usually like to portray the brand? A lot of brands follow the trends in the luxury world. We want to stay close to our roots, if you look at Panerai watches today; they are big watches, for a simple reason that we had to make big dials for the navy to see the time at night and underwater. When the brand began its journey in watchmaking, the design was serving the function of the watch and we kept this unique characteristic until today. We are working on upgrading the content of the watch, the movement, and coming up with new additions to the functions. We have mechanical hand winding and automatic calibers from three days to eight day and ten days power reserve. We have our own tourbillon movement and we work on offering our customers new materials. We have worked on watches with steel, ceramic, titanium, gold and bronze all of which are related to the sea. Recently we launched a carbotech watch, our customer today expects us to always innovate and come out with new and upgraded timepieces. Thus our slogan of «Laboratorio di Idee».
Officine Panerai: Luminor Submersible 1950. Modernized case in Carbotech, with high technical and aesthetic characteristics. © Officine Panerai
Before 2002, you used to do the design but the mechanism was from different supplier, and then after 2002 you launched the in house production? In 2002 we established our manufacture in Neutchâtel which has been renovated & relocated last year. In 1998, we launched the international market and in 2002, Richmont group invested in the brand. Our CEO Angelo Bonati was very clear, that for the brand to be successful it has to make its own in- house movements in watches. In 2005 we launched the first two calibers, today we have around 19 movements. The prices of our watches vary from 10,000 euros to 170,000 euros.
Milvin George and Maria Nadim. © Officine Panerai
During your eight years experience with this group in the Middle East region, you are between India and the Middle East, what were the things you found most challenging in this field? I think the most challenging is to develop the brand in the markets. There has been a lot of changes in terms of projects the last eight years; Dubai mall was opened, emirates mall expanded, in turkey we have our own boutique, in India we opened our boutique in Taj Mahal etc etc… each market has its own challenge but the common thing, delicate thing is to assess which project to go into and which project to decline. Another challenge was to build our retail expertise by having the best customer service experience in our boutiques. In 2008 we opened our first boutique in Dubai mall, and today we are proud to have 13 boutiques in the region between GCC, levant & India.
How do you explain the enthusiasm that people have for Panerai? Very few brands are Italian- Swiss made. It represents a perfect marriage between a unique design and a high-level of watchmaking.