Prestige issue 267, October 2015
The love of art is an art in itself … The Art of Loving, of knowing, of enjoying, to love, to communicate and share that love with others … This mission-passion is innate in Rania Tabbara, creator and curator of cultural events. For her, art is a valuable tool for dialogue, unique and universal that develops and brings people together … It is an art in motion … Driven by this passion and armed with strong experience forged over the years, she recently created with Rania Halawi in Beirut the Association Art in Motion, that she evokes with great enthusiasm to Prestige. Interview.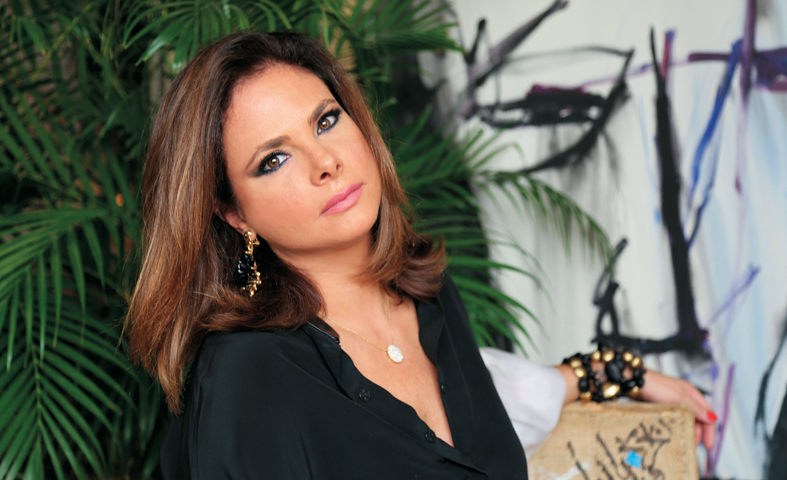 Rania Tabbara, creator of events and curator. © Archives Rania Tabbara
Obviously you have a great love for art. What do you also love? Three loves fill my life: my daughter Sarah, Art and Beirut.
Why Beirut? Beirut, because it is the city where I was born, where I grew up and where I still live. Beirut is an international cultural hub, which has a key role to play. That is why I want to create events that give this place in the landscape of arty destination and contributing to its influence. It is also a tribute I would like to pay to Beirut, in the forward thinking sense and its infinite creativity … It is a black diamond to be discovered with all its cultural potential, which is as important as its political and economic role. The art allows it to sparkle in all the purity of its brilliance. My commitment to the city is based on the desire to value it on the international arena, focusing on its active role in art and culture.
And what about art? Art is a valuable tool to understand the world and understand oneself. Art transcends borders, creates dialogue, reconciles opposites … Artists, collectors, gallery owners hold the same language. Art allows us to express our emotions and build our dreams. It allows to translate and reflect «the transparency of the soul», its hidden face, its secrets … The discovery of new talents as well as the great established names already attracts me and excites me. Through this encounter between different cultures, young artists have the opportunity to get close with enthusiasm with the great masters.
Give us an overview of your training … My artistic training began with a degree in ancient painting from the Ecole des Beaux-Arts in Paris, followed by a degree in interior design and design of the Lebanese American University. I have subsequently earned a training of «Curator» at Node Center Berlin. This general training helps me to intensely pursue the same objective, namely to contribute to the influence of Beirut. Thus I launched La Petite Academy, to introduce children of 4-14 years to painting and sculpture, among other … Then I founded the association Ashkal Alwan to exhibit the pieces of artists in public spaces, to raise awareness and facilitate public access to works of art. I also participated in the organization of major exhibitions of regional and international artists in Beirut, including Beirut Art Fair, the contemporary art fair valuing the Middle East, North Africa and South Asia.
What is your creed? Promote the art of the Middle East and strengthen the role of Beirut as a hub of contemporary art. For several years I have traveled the world to bring together investors and art lovers, modern and contemporary art collectors around the artistic creation of ME.NA regions, addressing directly to collectors and the Arab world patrons. Some have already contributed to Lebanon's artistic influence in the Arab world and internationally, while others are willing to engage in such a mission to support artists they defend.
You recently created Art in Motion … It is these previously mentioned values ​​that led me to create this year the association Art in Motion, AIM. Making art accessible to everyone, by introducing it in the sphere of public space. AIM brings together those involved in the art scene. Each year an exhibition around a theme, in a specific place in Lebanon, will bring together emerging artists and others already established to create interaction and exchange between local and foreign artists. We want to take art out of museums, continue the dialogue and make art accessible to all. We have already received the support of many collectors and aficionados. AIM seeks to be close to all Lebanese, through the visual and performing arts, art as a medium of exchange and dialogue.
Your vision of the Association … This is a specific vision to promote art as a unifying force and generating dialogue, likely to cross socio-economic barriers, cultural and geographical. AIM aims to revive public spaces through exhibitions and cultural events, to integrate art in public debate and national policies, and promote cultural workshops and seminars inside the country and abroad.
When is the first exhibition of AIM? The first exhibition to be held in October 2016 in a public garden, will propose a meeting between Lebanese artists and the Middle East and the French and European artists.
Which project makes you still dream? This is a documentary installation on the war in Lebanon that I produced and directed. It is directed by Wafa'a Halawi. It is «Shantet el Malja2» the suitcase carried away during the war in Lebanon. Living day to day, the Lebanese gave vital importance to the suitcase that contained all their valuable and useful items, their papers and everything that could facilitate their escape. The documentary tells the story of nine ladies and their setbacks with their luggage, they had always in their hand at the shelter. Each in her own way tells of her adventure, the importance of her suitcase, her fears and the heavyweight she was forced to wear and bear.
What is your aim through this project? Dedicated to all Lebanese mothers and grandmothers, the documentary-installation will be shown in major museums abroad. It reproduces the inside of Lebanese houses at that time, a typical living room where rows of old TVs can be seen in the middle of it. Each woman tells her true story vividly. An interaction is created between the characters and the audience, interspersed with dialogues and interaction. One speaks, the other observes through another screen, one launches a remark while another shows her suitcase and its content.
What is your motto? The desire to communicate that commitment to the art to my daughter Sarah and radiate Beirut is decisive in every action I do. She gives me the energy to keep going sometimes when obstacles arise … Interview by MIREILLE Bridi BOUABJIAN