She sings, she dances and thrills our hearts. Her fiery voice is also romantic. So is Hanine on stage, as light as a butterfly, a master as her performance. Her repertoire is drawn from the Lebanese, Arabic, classical and Latin heritages … Wife and mother, the performer of Hanine y son Cubano confide to Prestige.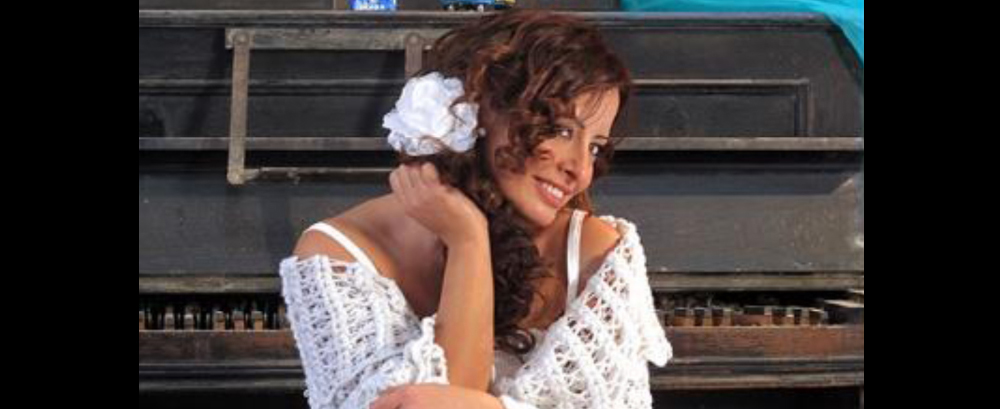 © Archives Hanine.
What brought you to the world of art?
I was born into a family that appreciates art in all its forms. Our house was full of a rich literary and musical library, with songs from the national repertoire, Oriental, Latin, classical, and many others … My brother Badih, a graduate in architecture, opted for the artistic career. The youngest, Bayan, graduated in Management Information System, is also an artist, pianist, and Voice-Over.
For my part, I am a lawyer but also passionate about singing, dancing, and cinema, and proud of my Oud, received while I was at school. I did both law studies at the Lebanese University and a BA in oriental Arabic music at the National Conservatory. I went to the faculty carrying my guitar on one shoulder, and my legal books on the other. It was also at the office of the lawyer Oussama el Aref, where I was doing my internship that the first contact with Michel Elefteriades took place. For Michel, I was the Oriental Arab and Gypsy with the powerful voice he was looking for. And that's how my first project Hanine y son Cubano came to life.
You sing, compose and animate your shows, as in Hanine y Son Cubano. How would you define your style?
My style varies from Latin to classical oriental. Currently, it is more focused on Lebanese heritage, such as the «Mawawils», which I appreciate enormously. I recently composed «La Chaiilla el hob» (Nothing but love), a song that is essential, especially these days. The world really needs love to deal with this wave of violence that floods everywhere. My style reflects my personality. In appearance, I am very strong, but in reality, I am sentimental and romantic.
You are very attached to your village, Ammatour …
Indeed, I am very attached to Ammatour, a village in Haut Chouf. I lived there until I was 14 years old. Ammatour has two advantages: on one hand its characteristic rustic character, with its water source, its fields … and on the other hand its higher educational and cultural level, the best on the national level. Ammatour is my link to the family, relatives, and the inhabitants…
You are an artist and a mother. How do you reconcile these two functions?
I am married and the mother of a boy and a girl. Like all active women, I do my best to organize my time so that I can reconcile these two functions. However, I give top priority to my family. I admit that if for many couples marriage is an obstacle, mine with Philippe allowed me, on the contrary, to move forward thanks to his support and understanding.
Would you like your children to follow an artistic career?
 I would like to give my children the freedom to choose their own career. I introduce them to all cultures, and it's up to them to make their choice.
What are the keys to success, according to you?
In fact, nobody holds the keys to success. It happens that artists who have a beautiful voice and all the necessary assets, do not meet the expected success. As it happens that a person skyrockets by simply broadcasting a video on YouTube, collecting millions of views. From a general point of view, I think that a singer must imperatively have a beautiful voice, be creative in the choice of music and show … Education, work and love of the profession are in favor of success.
We saw your brother, the actor Badih Abu Chacra, sing with you. Would you like to perform a duet with him?
Singing with my brother Badih is an event that honors me. Moreover, I consider that Badih is one of the best actors in Lebanon and in the Arab world. I hope to be able to realize with him a project that synchronizes my voice to his.
Which role is most important to you and which you would like to embody?
I would like to sing in a movie, to have a role that portrays a singer. Otherwise, I prefer to leave the field open to a professional actress.
What is your main trait of character?
Transparency and openness.
What do you hate above all?
Lies, and lack of fidelity to commitments.
The best compliment you received?
«The Queen on Stage», referring to my presence on the set.
The song you would like to interpret?
«Lamma a Tariq el Ain» by Sabah, a song that I love very much. It reminds me of my childhood, my mother, my aunt … Among the Arabic songs, I will choose «Ala baliyaNassini». I am happy to have interpreted and recorded these two songs that are really close to my heart.
If you were not Hanine, who would you have liked to be?
Honestly, I never thought of being another person. I am happy and satisfied to be Hanine.
What has become of your childhood dreams?
Much of these dreams have been realized, while others have changed with time and maturity.
A future project in sight?
Yes, I am writing and composing a show «visual», «Hanine around the world». It will bring me on stage with 14 musicians and dancers. I will not tell you more, to keep the surprise. However, I hope it will be successful both in Lebanon and abroad. This is my dream. Interview Conducted by Mireille Bouabjian