Prestige issue 266, September 2015
Behind the scenes of the new campaign Dior Addict Lipstick.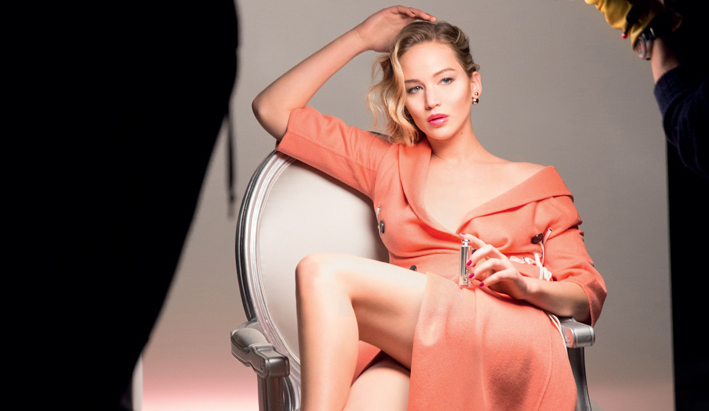 © Dior Parfums
Inventive. Innovative. Precursor…Dior Addict Lipstick, first Dior lipstick considered as a fashion accessory, first lipstick with  moisturizing top coat integrated, with enhanced brightness, pleasure, boldness. A revolutionary neo-red, with a brilliance of a new kind … Let's leave the place to experience, the unique … Welcome to the future of make-up. Red rule-breaker, Dior Addict Lipstick today inaugurates a new make-up era. An avant-garde that cannot go without an ultra-contemporary design: the sheath is more slim, more refined; it is more addictive than ever thanks to its magnetic closure and mirrored design, playing with shades of light to better attract attention. Since its launch in 2001, Dior Addict Lipstick surprised by its catwalk spirit, its bright shiny colors, easy to wear, and its upside down design to trigger a wave of color and make women shine … Never seen. Full of daring elegance: over the years the most versatile lipstick of Dior became the emblem of a femininity that dares to invent and reinvent itself, without the slightest glance to conventions, with brio, with character, with a refinement definitely Dior. This surprising red reinvents itself today in a dazzling futuristic version that defies the boundaries of the brightness to make the easy color, alive, vibrant. The aura of fashion of Dior Addict Lipstick reaches its peak in radiation. An invitation to shine as ever, thanks to a technological prowess housed in the heart of the stick.
© Dior Parfums
Shine and don't be shy! Dare to shine!
An atmosphere tinted with grey Montaigne, a medallion chair similar to those of the Couture salons of the house, mirror games evoking the brightness of Dior Addict Lipstick and brilliance of a thousand faces … In this universe definitely Dior, the appearance of an icon, an international star, one of the most remarkable actresses of our time. A smile we cannot get away from. Jennifer Lawrence, who plays naturally today the attitude Dior Addict: boldness, modernity, its innate elegance, irreverence too. «Shine and do not be shy!» The motto of this campaign signed Craig McDean, in collaboration with Peter Philips, is the perfect reflection of what it is in life. In an emblematic look of the new Dior spirit, Jennifer Lawrence plays one of the strongest shades of Dior Addict Lipstick: Be Dior, fuchsia recognizable among a thousand, expression of an edgy creativity. It is model of femininity, confidence, sophistication, seduction with lightness. And literally takes power.
© Dior Parfums
In the center of the raisin, appears a translucent CD monogram in tone-on-tone. Surprise, this logo, signature of the house consists of a topcoat gel effect, high gloss and ultra-moisturizing. A surprising tender heart which through a process unique to Dior, is infused throughout the length of the stick. Application after application, this  gel coat unique in its kind, the first ever integrated into a Dior lipstick, melts gently on the lips and covers them with a mirror film, with transparency and sensuality. It brings an extra dose of brilliance to color, for a spectacular optical effect of volume and an ideal fit.
In details
The exclusive heart of gel of Dior Addict Lipstick consists of 40% among the three brightest oils of cosmetics.
Oil Comfort helps moisturizing the lips, they are smooth and bursting with life, without stickiness.
Oil Shield optimizes adhesion and color retention.
Sensory oil provides Dior Addict Lipstick with its creamy, slippery and fluid aspect … A new generation of voluptuousness.
© Dior Parfums
Nail polish Dior, four essential colors to match with Dior Addict Lipstick.
Dior Addict Lipstick is the new fashion accessory to wear like a second skin, a style enhancer. A line resolutely fashionable, both easy and avant-garde to experiment freely for a twisted look instantly. For every woman can shine a thousand and one ways, the choice of colors is multiplied by three distinct effects of light.
Glow
Shades of «daily» style that awaken and cover the lips with natural colors: beige, pink, soft coral to timeless chic.
Flash
Electric tones and bold pop, like oranges and fuchsias decidedly eye-catching, to play the accent color on the lips.
Glitter
Catchy colors that dare an elevated concentration of pearls and glitter to dramatically reflect light from all angles.
The «it-shades»
Be Dior
An ultra-modern raspberry pink, dense and strong, infused with tone-on-tone pearls … An urban interpretation and full of bold pink, color dear to Christian Dior, forever inseparable from the history of the house.
Tribal
A beaded coral, with captivating blue reflections, like an echo to the pearly luster of Tribal earring became an emblem of Dior style: this iconic jewel, an absolute«must-have» for all women seeking elegance and avant-garde.
Wonderful
A soft pink baby, sprinkled with silver pearls, giving the look a sudden instantaneous charge. A surprising hue of freshness, easy to wear at any time of day … or night.
Smile
The classic rosewood transcended with a daring touch to cover the lips with a natural blush effect,to illuminate the face and give a smile. Just as Christian Dior gowns of which he said, they did not make only the most beautiful women, but also happier…
Dior Vernis
Multifaceted lacquer
From lips to nails, the same boldness, the same art of shine. Dior unveils four essential nail polishes to match with Dior Addict Lipstick. Lacquers whose latest generation formula is incredibly rich in varied pearls: an amazing «twist»of colors for denser shades, deeper, more vibrant.
Electric Orange, intense plum, light beige, hot red: these four new hues are animated with moving reflections to better resonate with the brightness of lipstick.
Essential final touch: the Dior gel coat, top coatwith bluffing gel effect, which incredibly shapes the color so that it radiates maximum in all dimensions.
© Dior Parfums
«Dior Addict Lipstick integrates all that a woman expects from a beauty innovation:
Surprising and bright colors,
more comfort and joy …
Not to mention a real playful side.
If it makes you addicted to something, it's to life»,
Peter Philips, Creative Director and the image of the Dior makeup.