Prestige issue 268, November 2015
Present in Beirut to present a unique fashion show, for the 50th anniversary of Louise Wegmann College, Stephane Rolland, architect of Haute Couture, is a creator with solid bases, as art, architecture and graphics, and not according to traditional modes that limit innovation. How does he define himself, what are his visions of education, fashion and elegance…many answers with these confidences from the heart made by Stephane to Prestige.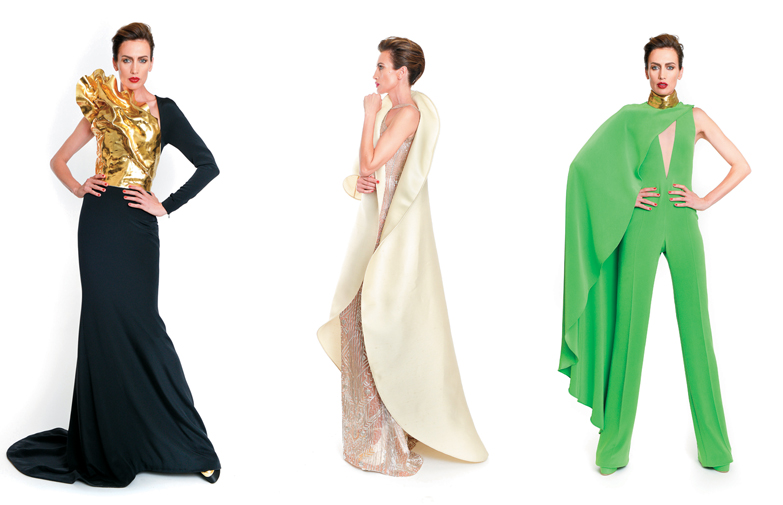 Nievez Alvarez wearing Stephane Rolland, Haute Couture collection Autumn-Winter 2015-2016. © Stéphane Rolland
Stephane, it is not your first visit to Lebanon…I have been fifteen times to Lebanon, but it is the first time that I make a fashion show in Beirut. For me it's a big day, because I think it will be a unique show for a beautiful anniversary. I rarely make fashion shows abroad because transportation damages the clothes…But when Cynthia Sarkis called me and told me the story of Louise Wegmann college, I found the story of the three women who decided to create a school very beautiful…And for the 50th anniversary, when we look at what's happening in the world today, we find out that education is a priority, when the youth is educated, this will enable them to have another look at things in life…
Is your participation to the celebration of the 50th anniversary of Louise Wegmann college a way of encouraging education? Education is basic! All the tragedies we witness, all these populations being governed severely are due to the facts that some dictators take advantage of the lack of culture of their populations to better control them. That's how dictatorships are born. I am happy when education is promoted, and Louise Wegmann college has an excellent reputation. There are three colleges in Beirut that receive mixed students. It's a college that recommends openmindedness.
Tell us about your Haute Couture collection for Autumn- winter 2015-2016. As all my collections, it is based on art and architecture with many graphics. There are basic colors like black, white, caramel colors, green, which is a strong color, and much gold to reflect light. Gold for me is synonymous of positive energy. It's a sculptural collection where the dresses ornaments are real sculptures with much technological innovation. Many ornaments on the dresses are made of silicone filled with pure gold powder. This silicone was developed with the help of chemists. It gives the idea of a metallic armor but in fact it's silicone, very sweet when touched, like silk…You don't have the harsh or aggressive side of the metal.
Stephane Rolland, creator who recommends innovation and liberty of expression. © Prestige
«My collection is suitable for all morphologies»
Two years ago, instead of a fashion show you presented a short movie for the Autumn-winter 2015-2016 collection, you preferred an intimist presentation in your Parisian offices…why this alternation? I wanted to make movie since a long time. I find that it's a smart way of making a presentation especially that today we live in an era of intense communication, all is made through social networks. I don't know why we should always make traditional fashion shows with a catwalk, models…I love to see some innovation. What interests me is to get out of traditional fashion shows and meet actors, directors, and exchange with them techniques to progress. Music and cinema are important sources of inspiration for me and I adore photography and camera. Working on all that is visual, shades and light…
Stephane Rolland works exclusively on Haute Couture. Do you think of working in ready-to-wear or you prefer to keep this freedom that Haute Couture gives you? I love the freedom that Haute Couture gives me. But on the other hand, one must be realistic, this freedom is only an impression, because Haute Couture is a market with a demanding clientele that need to be offered the best…And we should satisfy this requirement. Ready-to-wear will come ahead, but it requires a completely different structure and that what I should establish now. I make ready-to-wear in a reduced manner now, for the shop in Abu Dhabi.
Do you have a muse? I don't like having a muse. People say that Nieves Alvarez is my muse…She was the last muse of Yves Saint Laurent. Nieves is a friend, an extraordinary woman that I really love. I find simply that she is an incredible image of elegance. She, who celebrated her forty years, proves that beauty has no age…I am addressing all women and I find that having a muse can limit you…I love liberty. I dress all bodies. My collection is very minimalist because it adapts to all morphologies. What I love is liberty of expression and challenges. The bigger the challenge is, the more creative I am… Dressing a beauty, nothing is easier…She is already beautiful, she doesn't need me, but saying that you can embellish someone is great!
If you had to describe yourself? The driving force of my life is perhaps sharing. I am a vexed contemplative, this means I am a big lazy workaholic…(laughs). Like all lazy contemplatives, we need things to be organized in a way to be very efficient, to not spend three hours to execute them… Reason why I do things very quickly, because I love nothing as much as sitting and contemplating. This is why I draw very quickly, I have a look at life, at people very sharp, that doesn't prevent me sometimes from being naïve and seeing life in a very simple way. With years I lose a little of this naivety, I am a little bit more mature, it is the advantage of getting older, you make less mistakes, but I hope to make mistakes for a long time, because this means that I am still young…(laughs)
Your definition of fashion… It is the envelope of the body and the spirit, what you wear should reflect what you are. Fashion reflects society and we make society, it is also the reflection of an economy, either we fall into some kind of austerity, either to counterbalance we direct ourselves to a form of crazy eccentricity, liberated not to fall in the trap of restriction. The economic crisis remains since several years with more and more rich people but more and more poors, the gap is widening. And since haute couture is addressed to a very rich clientele, we are going to the summit.
Your definition of elegance…A woman can be elegant in jean and T-shirt. It is the way she moves, the way she walks, the little gesture she makes… Some women have this sort of magic, if they put anything, they look delightful in it, this is rare. There's a woman in Beirut I really love, we can dress her very simply, she has this sort of generosity and lot of empathy. This is an example of a woman who transcends fashion, whether in djellaba, in jeans and baskets, she has a way of coming towards you that symbolizes elegance.
If you had to give an advice for a woman?  To be honest in her aesthetic statement. Not to exaggerate, always work on balances, but especially being honest with herself and for this she must know and accept herself. When you are at ease with yourself, you don't have to prove it, one must feel good, and when we feel good, we don't seek to reflect an image. The image goes out naturally. Interview conducted by Maria Nadim.