Prestige issue 271, february 2016
Fashion by Raschad Arabi
For winter 2016, 50 shades of passion
The autumn-winter 2015-2016 will certainly not be sad because red will be the spotlight! Very remarked on the «catwalk» at the latest fashion shows, it is propelled at the top of the colors of the season.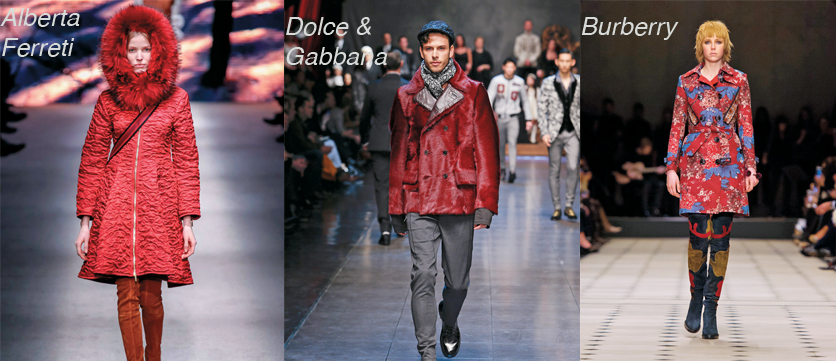 © Archives Raschad Arabi
Romantic, sensual and voluptuous, red knows how to take us through feelings. As one of the flagship colors of spring, it is back in force this winter, with tonalities ranging from blood red to purple. Red is the color of good mood of the feminine, passionate woman and even fatal. If the eternal gray, black, brown, khaki and dark blue, remain the stars of the feminine wardrobe of winter, other colors, less traditional, are unavoidable this season. The red provides the silhouette with sensuality and strength, purple electrifies it, nude softens it, while yellow and orange give it a boost. Overview of the star shades for autumn-winter 2015-2016 for a woman full of energy and dynamism. Couture and ready-to-wear houses, however unveiled sharper colors this season, with an emphasis on the deep red, intense, bright or darker. Purple, from dark to pastel, is also very present, like beige, yellow and electric orange. Whether in touches or in total look.
Red, the new black
Many parades have put the red in the spotlight, taking or losing in intensity depending on the brands. Ultra-sensual, it gives a modern and sexy touch to any outfit, and brightens the season. Hermès has played this card especially during the presentation of his autumn-winter collection 2015-2016, declining it on coats, dresses and shirts. Alexander McQueen has proposed a series of looks dominated by this color, like Elie Saab, Christian Dior, John Galliano, or Valentino.
The bohemian and romantic nude
Beiges stand to make their place in the women's wardrobe this winter, with a broad spectrum ranging from ivory to pink beige through the nude. Like a second skin, they lengthen the silhouette and give it a touch of romance in total look, or soften it when used sparingly. Chloe house has proposed a series of silhouettes in these tones. A trend recovered at Paul & Joe, Nina Ricci, Max Mara.
Purple and its variations
Another color that is growing this season: purple. From the darker shade through brighter shades, purple electrifies the outfits to brighten up the silhouette. Already well present last winter, it is associated this season with beige, night blue or yellow. We see it however very few in total look. Chanel, John Galliano, Kenzo, Issey Miyake or Emporio Armani are among the houses that have taken the step this year.
© Archives Raschad Arabi                                                         © Hermès
Yellow and orange, the touches of colors
Often reserved to summer wardrobe, yellow and orange have their place in the female wardrobe this season. From bright yellow to mustard yellow through yellow saffron, it offers the color touch supposed to brighten the darkest outfits of the season.
For its part, orange, even if it was seen in some flashy touches with certain creators, remains quite sober, even somber overall. These colors were spotted at Miu Miu in particular, but also for Louis Vuitton, Celine, Givenchy, or Rochas. Kenzo prefers to assign the yellow to accessories, and in particular handbags.
Red is for whom?
What's great with red is that it suits everybody! Blondes or brunettes, pale or dark complexions … It puts all the women in style, with its wide range of shades, we love it! If red is at the heart of trends in fall-winter 2015-2016, yet it is a Timeless color!
Whether to raise a slightly austere look with accessories, to ensure elegance with a nail varnish and / or a lipstick or playing seduction with a pretty dress, slim or large, red is a color that all women can really wear.
Which shade of red to choose?
If you have a dark complexion to black and dark hair, opt for a very bright red or a hard red. For a bronzed / tan with brown coppered hair, hot and dark red will be dazzling on you. With a tanned complexion and light brown hair to blond, orient yourself to warm and bright red or rosé: coral, neon, etc. Regarding fair complexion with rosy light hair, avoid intense reds and turn yourself more towards sweetened red.
© Archives Raschad Arabi
A real seduction asset
Did you know? It was revealed by a British study that waitresses dressed in red receive more tips than their colleagues. One notes the same phenomenon with hitchhikers, who find more often someone to pick them if they are dressed in red. It has been proven that the red color has a special attraction on men; this fascination is such that red really makes them more susceptible to feminine charms. If like Little Red Riding Hood you want to attract the wolf, so please note that for an elegant appointment, the red dress is essential to capsize the «male» you covet!
What to wear with it?
You can totally play on contrasts by choosing black or white, if you embark on a bold block color by mixing the bright yellow and electric blue! If you want on the contrary to temporize it, associate it with colors like camel, brown, caramel.
Hermès. Vintage scarf 100% silk 70cm «Pegase Pop». © Hermès
Some ideas for mix and match for the red in your wardrobe
Rummage through your wardrobe and choose a nice assortment of red with pieces you already have purchased before.
Remember that red and jeans combo is a true fashion classic that always works. What better than a beautiful red mesh with jeans.
A red blouse under a suit for a boyish and elegant silhouette.
Twisted red waistcoat to be mixed with pastels and transparent materials.
Recurrent Pattern for fall season, the Tartan is worn under a coat with grunge boots.
Soft velvet costume, «royal red» spirit.
The cape, a strong piece for winter, the cloak of Little Red Riding Hood in a real fairytale look.
The geometric stripes wonderfully warm a 70's casual figure with jeans and black waders.
The pace fatal woman: a sequined red dress, high heels, a matching red lipstick and the role is played.
The Scarlet red comes along with an imposing reversed sheepskin jacket.
Jackets oversized red varnish.
The Pan collar dress vintage.
Long jacket with boots, pleated skirt, light sweater.
A red skinny carmina jeans associated with off- white or beige.
Loose turtleneck sweater that can be worn alone with boots
© Archives Raschad Arabi