Report by Sonia Nammour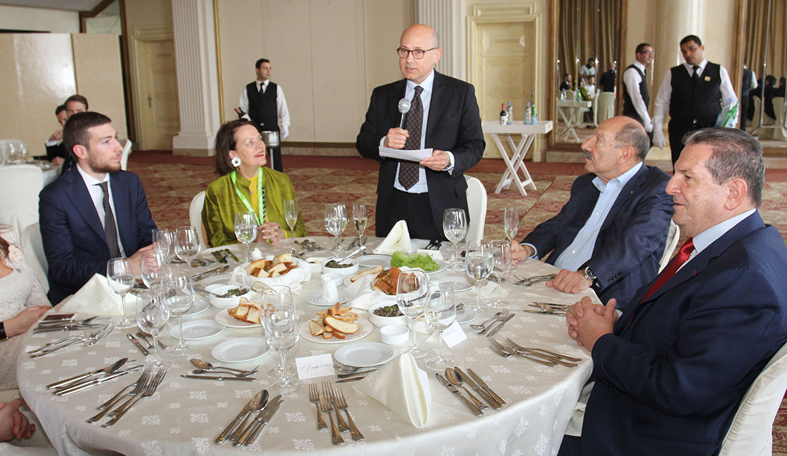 Ambassador Massimo Marotti gives a welcome speech in front of Gualberto Ricci Curbastro, Alice Edde, Mario Haddad and Gaby Tamer.
As part of the 23rd edition of HORECA exhibition held at Biel, the Italian Embassy hosted a lunch for a select group of restaurant owners and media at the Royal Pavilion in Biel, in the presence of Ambassador Massimo Marotti. The guests were offered a welcome drink in an Italian atmosphere, very friendly. Provided by the restaurant Mario e Mario, the meals, with tantalizing aromas, delighted all the guests. It was a parade of dishes that started with a sauce of Italian truffles and mushrooms accompanied by bruschetta and carpaccio of sea bream followed by an exquisite truffle risotto, arrived specially for the occasion from Italy and provided by Urbani Tartufi and then delicious pasta with tomato sauce, ending with a divine melting tiramisu. This delicious menu was accompanied with a quality wine. The Franciacorta, red or white wine, served at the table, has delighted all the guests who wanted more. Founded in Lombardy in 1800 by the family Ricci Curbastro, the company was transformed in 1967 by Gualberto Ricci Curbastro- whose grand son was present at the lunch- in modern winery that produces Franciacorta, a wine from the best grapes. I had the opportunity to collect some comments and advice of the manager and chief Samer Yahya, culinary architect of this lunch. In his view, the classic Italian cuisine uses only natural products. It is strictly based on olive oil, tomatoes, vegetables and fresh fruit. To the question: «What about international fashionable cuisine, do you introduce new ingredients to your dishes?», The chief replied, emphatic and insistent: «No, our kitchen is 100% Italian. It is true that I cook various dishes of the world including sushi, but not the Italian way. Italian cuisine is inviolable.» After lunch, the journalists visited the HORECA culinary exhibition, including various Italian booths where we could not resist, even after this hearty lunch, with many gourmet delights arrived fresh from «Bel Paese.» the beautiful country.