Prestige issue 283, Feb.Mar.Apr.May 2017
It is passion that drives this concert pianist, philanthropist and piano professor. Born in Mexico, Jorge Viladoms discovered his love for piano at the late age of 15, before moving to Switzerland to perfect his art. Today, he performs on the biggest international scenes. Prestige met with the brand ambassador of Jaeger-LeCoultre in Geneva to talk about his passion for music, how it changed his life, and his upcoming concert in Lebanon as part of the Al Bustan Festival, on the 7th of March.
«Music was an escape that completely changed my path…»
Tell us about your career as a pianist… How did you catch the «piano virus»? It all began in a very particular way. When people talk about a classical musician, they usually think about the kid who begins at a very young age. In my case it's very different. I began to learn how to play the piano at 15 years old in Mexico, after my father passed away. I found through the piano and other kinds of art, like writing, a refuge from all the questions related to existence that I asked myself. Music was an escape that totally changed my path. I began at 15 with a very old woman who gave me private classes every Saturday. I loved playing the piano. At the age of 18, I went to visit my brother in Switzerland where I met one of his friends, a cellist, who took me to the Lausanne Conservatory for Music. I was fascinated by the beauty of the place. I was allowed to study there because they noticed how passionate I was about music, that I played with all my heart… That's how I realized that this was my vocation. I began to work a lot to improve the gaps I had. At 24, I finished my master in Lausanne then I went to Zurich where I obtained my second master, aged 26. That is when I was offered a position as professor at the Lausanne Conservatory.
Was it because music helped you through your tough times that you decided to create your foundation «Crescendo con la Musica»? Because music changed my life, I knew that music could change a life. Music is what made me understand what I wanted to do, to help kids. The idea of creating a foundation was in my head since I was a little kid because my mother was always helping kids from an orphanage in Mexico. I saw how she gave herself heart and soul for those kids, and I lived all those situations with her. Empathy was a very important value in our family. My father was a surgeon so it started there. When I came to Switzerland I adapted very easily in that country where you don't see kids in the streets. You don't see the slums that you see in Mexico. I stayed 4 years in Switzerland without going back to Mexico. So when I finally went back home, I saw these 6 years old kids painted as clowns in the streets. I couldn't bear it. I decided to do something to help these kids. My job at the conservatory gave me financial security, it's a job for life. I was lucky because it's a dream job to be a professor in that institution. Two weeks after I got the job I started creating the foundation through which I wanted to give hope and purpose for children in poor countries. Music puts sense in their lives, I cannot give them more than that but it's a good way to help.
What are the different accomplishments of your foundation? The aim of Crescendo con la Musica Foundation is to provide access to music to children living in poverty in Mexico, by offering them the opportunity to possess an instrument and acquire quality musical training. Our first project started in 2013 in El Centro Educativo la Barranca in Guadalajara, Mexico, where we introduced classical music to the 360 students of this school. We collected 100 instruments from Europe and gave them a second life. We got pianos, a grand piano, 31 violins, cellos, clarinettes, flutes. We hired teachers that we're paying well, with social security to motivate them to do their job. We also started a project in Kenya where there are 89 kids. We exchange teachers between Switzerland and Mexico. We also give scholarships.
What is more important in a concert, technique or emotion? I think that people confuse technique and performance. For me technique is when you play slowly, how you use the pedals, the different sound levels you play, the tension you want to give to a phrase, you have to try to arrive to the best interpretation of how the piece you are playing should sound.
You are the brand ambassador of Jaeger-LeCoultre. How did your collaboration with Jaeger-LeCoultre come to be? When I arrived to Switzerland, I saw the importance of watches to this country and learned to appreciate those masterpieces. I even got a chance to visit Baselworld with a Mexican friend who was a watch enthusiast. Then I was in Mexico giving a conference for a magazine when I was approached by Jaeger-LeCoultre and told that they've been looking for someone to represent the brand. I accepted directly!
What are the values you share with Jaeger-LeCoultre? The most important value I realized when I went to collaborate with them is passion. When I met Christian Laurent at the manufacture, I could see the passion in his eyes. They all work with passion on their Grande Complication and all their timepieces. As time, music is an impalpable concept. We have to create it, to make it exist in the stream, I also share with Jaeger-LeCoultre the social responsibility. They organize a fundraising gala in Geneva for the foundation.
What is your relationship with time? I am kind of amazed with the time flow, and would like to live every moment.
Time, precision and emotion characterize Jaeger-LeCoultre watches, but also your music… When I play in a concert, I notice that time goes more slowly, I don't know why, but now I learned to play faster. That's because I am so concentrated in a concert. It's the same thing with watches. I saw one of the watchmakers who has been working on a Grande Sonnerie watch with the melody of the Big Ben for eleven months.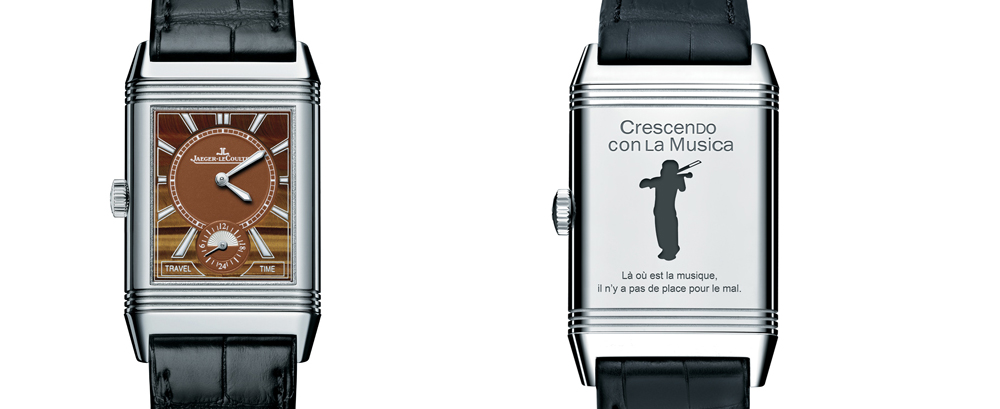 Do music repeaters and Grande Sonnerie watches appeal to you more than other watches because of the melody of time? Yes (laughs). I would love to have the melody of Clair de Lune by Claude Debussy in one of the Jaeger-LeCoultre watches (laughs).
Are there any future projects with Jaeger-LeCoultre? Yes! I would love to explore this challenge of Clair de Lune in a Grande Sonnerie (laughs). The inside of a piano and the inside of a watch have so much in common with all this mechanics involved. We can make a short film. It's a beautiful relationship.
What are your future projects? I just finished recording my new album, From Latin America to Paris, in which I am accompanied by Lionel Cottet, a Swiss cellist. It will be out in June with Sony Classics. It is a collection of pieces made by Latin American composers, all of them having lived in Paris for a certain time, as well as melodies from French composers like Debussy and Ravel. We will also be touring all over the world. And save the date! We will be at the Al Bustan Music Festival in Lebanon on the 7th of March. I am looking forward to it…   Conducted in Geneva by Maria Nadim