Prestige issue 285, July-Aug.-Sept 2017
High quality and Innovation at IWC Schaffhausen
For the 27th edition of SIHH, IWC Schaffhausen, the well-known brand for pilots watches, decorated their booth as a Florentine palazzo inspired by the works of Leonardo Da Vinci. To introduce their new collection focused on the ladies line in different ranges, two CEO's, the outgoing George Kern and the incoming Christoph Grainger answered the press questions, talking about new strategies and evolution of the brand, in terms of merchandising, offerings and digital communication.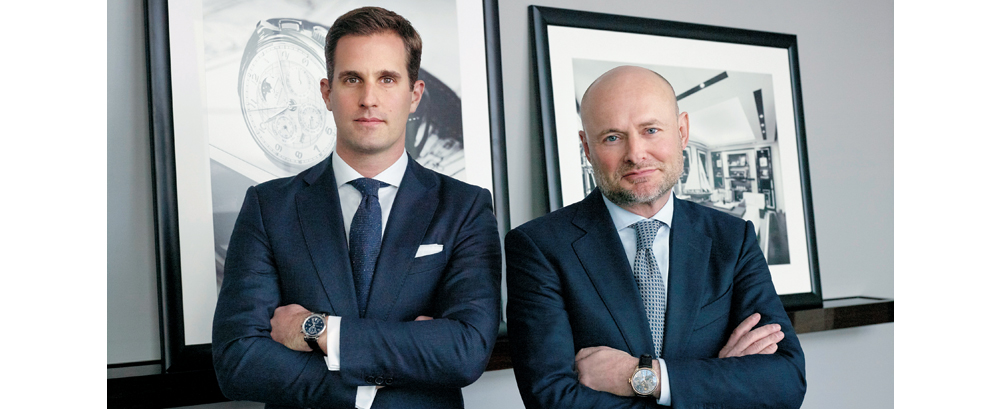 Can you tell us about the evolution of the Da Vinci? Christoph Grainger: As you may know we first introduced the Da Vinci in 1969 as a tonneau shape watch, we then launched in 1985 the iconic Kurt Klaus perpetual calendar watch with a Da Vinci in a round shape which is a direct inspiration from this year's version of the Da Vinci. This very iconic Perpetual calendar easy to operate with minimum adjustments put IWC on the map of today's Haute Horlogerie. Then we relaunched in 2004 when Da Vinci adopted its large Arabic numerals that you find on the dial again today, and then from 2007 to 2017 we have the tonneau shape based on the original 1969 version. Today, with the Da Vinci 36, more formal, we are focusing on building another pillar within the ladies collection we already have, namely the Portofino 37, a sporty casual offering, and the Pilot 36, the most sporty version in our ladies segment.
Between the ladies themselves, would the same lady  wear this and that? Christoph Grainger: I don't think we can target it like that, I think it's a style choice in terms of design preferences between the two models.
It seems that this relaunch of the Da Vinci has been taking more than four or five years. Christoph Grainger: We look ahead the years to come, we make strategic choices of what we want to relaunch to keep a product mix, that will suit the market and what we believe our customers are expecting from us.
How far will you go with this focus on the ladies? Christoph Grainger: That happens automatically because that is where the market is going. The last section in the luxury watch market is female, in the very beginning we had a clear positioning on one segment to reestablish the brand and put it on the map globally. As you grow you're developing the range, you have new products, you have new customers, new territories and as you become more well known. Within that context, it makes full sense to have a full female offering and this is what we've been building since the introduction of the Portofino 37, step by step.
How do you communicate this change of positioning? Christoph Grainger: Within the IWC brand you have many different story telling universes. The Portofino story and the Da Vinci story addressing women become part of this universe. We play in different ratios, different markets at different times.
Will there be new merchandising that will take after this collection from male oriented boutiques to more balanced female and male? George Kern: It's reflected in our merchandising concept and in animations. We have larger boutique areas that are dedicated either to individual lines or to female offerings as a whole.
We have again new round cases in Da Vinci and if you look at the new perpetual calendar chronograph it's very similar to the old model released in 1985. So after thirty years what are the major differences and the improvements in between those two models? George Kern: When you have a good design you make it evolve to make it classic, the whole shape of the case is different, the ladies line is different, we have innovations… We have both technical improvements and aesthetical changes.
Everybody is talking about millennials… How important are the millennials to IWC? George Kern: They are important to us as they are to anything in the consumer industry, because they represent the upcoming generation who is now buying our products.
What products would you name as focused on millennials? George Kern: We make products which haven't changed technically since 250 years. You can produce traditional products and be old and you can produce traditional products and be modern, and you can with traditional products address millennial clients.
Does this phenomenon we witness with people preferring to buy in mono brand environment, cross all markets? George Kern: No I think there are different mixes in different markets. There are markets where it has something to do with consumer preference, once people have chosen that brand they would like to go in a mono brand to see the entire selection, the entire collection of the brand. There are markets where you have traditionally a stronger wholesale.
After the slowdown we've been seeing in recent years, do you think there's a fundamental change? George Kern: The market has totally changed the last couple of years. I'm not sure we have a slowdown, consumers are changing, everything is changing.
I would like to have your opinion about what would be the advantages of the exhibitors here in Geneva? George Kern: We're in Geneva and I think inviting people living in Geneva makes sense. It's a big effort from the brands that will extend the audience, especially that the show will be opened to the clients the last day for the first time.
Christoph Grainger, what is the biggest challenge to you to be the actual CEO? Christoph Grainger: I'm in a very fortunate position where I've been working closely with George the last ten years, so I think my introduction to this brand couldn't be better. I'm inheriting a fantastically strong brand, fantastic products… I think we all face the challenges related to the industry, that we're all busy with for years that we will be continuing to evolve and develop our strategy in that direction. I'm in a very lucky position to be inheriting this brand at this moment of time. Interview Conducted in Geneva by MARIA NADIM