Prestige issue 285, July-Aug.-Sept. 2017
He is tall, thin, handsome and strong like a sailor. But also charismatic, intelligent, curious … We compliment him on his look, a dimple instantly hollows on his left cheek. He carries on with films: «9 Fingers» by F.J. Ossang; «Eva» by Benoît Jacquot, with Isabelle Huppert; Then «Les Confins du monde» by Guillaume Nicloux, with Gérard Depardieu. At his wrist, Monsieur de Chanel, the first watch for men of the House. He unties it to show the back. It's transparent and one can see the mechanism. «It's like a beating heart, don't you think?» And the interview begins…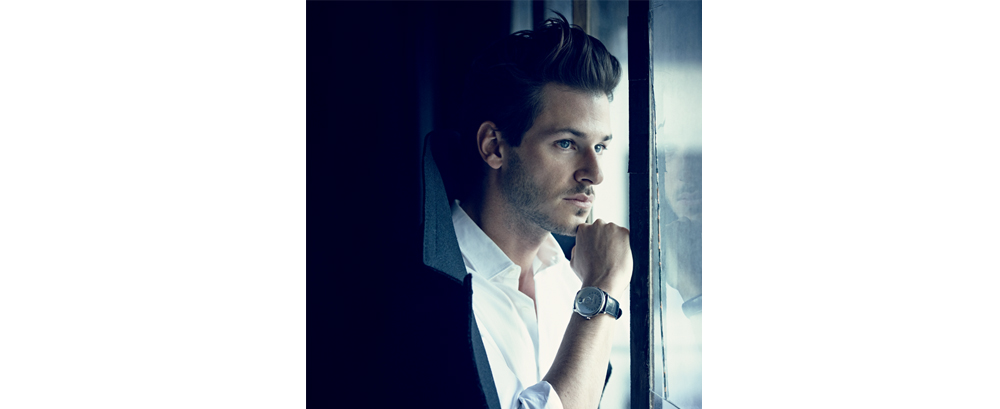 You wear the watch Monsieur de Chanel whose mechanism is unprecedented, subtle. Would you be able to tell how it works? I am going to surprise you: it is a watch with instant jumping time and minute retrograde.
You learned it by heart! Because it really interests me. When the time changes on this watch, the minute hand moves backwards at full speed to return to the zero position. In a world where everything goes quickly, this wonderful detail comes to recall something of the time. Plus, it works the old way. It has an autonomy of three days, but it must be winded. The hour indication is well deserved. And also, if you do not wind it, you stop the time. That gives you a little power.
Would you be tempted to stop the time? I have a special relationship with slowness. Since childhood, I have been reminded that I have a rhythm of my own. One cannot hurry me. I would not want to stop time, but feel it pass. And a watch allows this.
We feel that the watch has changed function: before, it was used to go fast, «He has eyes on the watch», it was said. And now it is as if the time of the watch passed more slowly than life. That's right. This makes it a more valuable object than before. I like to feel those small seconds that pulsate on my wrist. Strangely, it's soothing.
Thinking about it, even your acting is slow … I like it. Slowness is the only rhythm in which there can be some poetry. And I do not quite see what we would be without poetry, right? We must accept the silence ranges. I am never anxious between two shoots, I have never been shaken by periods without projects. I live this void as an unexpected space. Emptiness is what makes it possible to recharge our batteries. Finally, let's say it's my way of being. Xavier Dolan, with whom I worked, needs hyperactivity, on the contrary. He goes a hundred miles an hour. The seconds of my watch would seem very slow for him.
You were at the last Cannes Film Festival for «Juste la fin du Monde» by Xavier Dolan. Does time stop in Cannes?  Oh no, not at all, it's a place of absolute urgency. Often, we do not even have time to see the film that we are presenting, and we discover it with the spectators! The time there is compressed, it is violent. We need solitude and privacy, just to find a slower breath afterwards. Otherwise I guess you'd go crazy.
You have played at the theater, does being on stage change the relationship to time? Yes, because it changes the relationship to the body. The public is held at a distance, it is not to ten centimeters of your face like in the cinema. So you have to express things with the whole body. It's a long journey.
«Sometimes, even in the dark, I listen to the second hand to fall asleep …»
Would you say that today everything is going too fast? What is frightening is the juxtaposition of speed and profusion. All these alerts on the phone, I will disable them. The Hyperconnectivity. We are more and more connected but we actually meet less and less. These innumerable photos we take! I have a little boy, I can not help but think of the thousands of photos we make of him. Is not that an abuse? What will he do later with these mountains of photos, the poor? Put them on his phone? All these indelible traces of his past, as if his life was meticulously archived in a colossal photo-novel … I sometimes have the terrible impression that one is stealing his memory. To deprive him of his free will and freedom of interpretation as to his past. His memories will inevitably be altered, even damaged by all these photos. It is as if he was prevented from telling himself his own life, there is no longer room for fantasy, for dreams, for legend. The image annihilates the imaginary.
You're rather watch than phone, so? I would like to reply in the affirmative, but even without being on any of the social networks, I spend a lot of time on my phone. As soon as I have a gap on a domain, I leave to learn on the internet. It is still wonderful to have unlimited knowledge (well, almost!) There on hand.
Do you remember your first watch? Oh, yes! It was a Flik Flak. The hour hand was a little man, and the minute hand, a great man.
Can I ask you your age? Yes, I … What age do I have, by the way? 32 … 33 … It's terrible, I never know my age. 32 years old!
I thought the watch Monsieur de Chanel said age, too! It does better than that: it reminds me that every second counts. That's why I even keep it to sleep.
No! I do not believe you! Think again. Sometimes, even in the dark, I listen to the second hand to fall asleep.