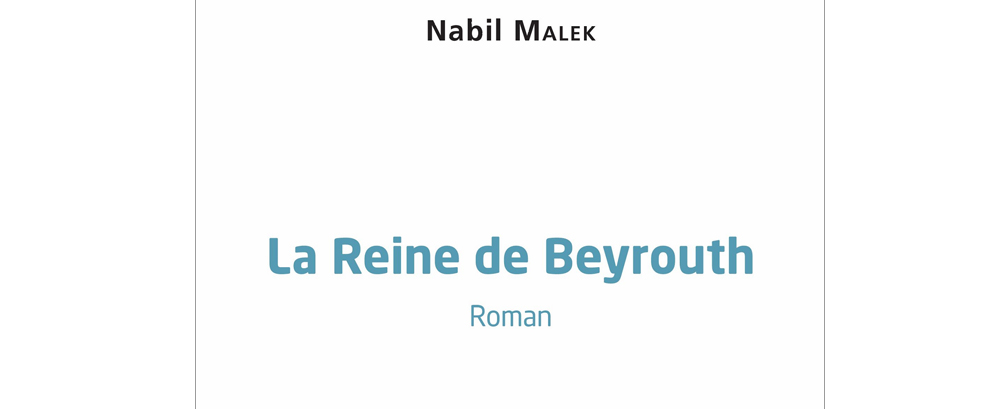 1- «The Queen of Beirut» is the title of your book. Why did you give it this title? I entitled this book the queen of Beirut for several reasons: it's a story of love and passion. The narrator-writer is madly in love with a woman, idealizing her. This woman is incredibly beautiful that no other lady could be noticed. She is a Sylph, the ideal woman, bringing hope, but not reachable. A real queen.
Layla was born in Egypt in a rich family of Syrians who suffered Nasser's sequestrations. In Lebanon, she wants and will realize her secret ambition, «to become a celebrity, moving from parties to fashion galas, to finally join the important figures of the jet set, becoming the queen of Beirut, sovereign of a dissolute and false world, made of glitter and fugitive glories.»
She is also and surely a queen for her son, as for many Lebanese, because he owes her a lot, namely to have introduced him to the cream of the cream of the rich Lebanese diaspora. He suffers «when she is victim of the biggest bestiality». He imagines her «tired and thin, eternally present». He fears for her: «She suffers in this boiling mud pool». Allusion to the Israeli incursion attempt in Lebanon in 2006.
2- You have an important career in the world of finance. How did you come to writing? Two answers, the first, I had developed the Middle East region for a bank with results no one could imagine, and while I was awaiting to be promoted, the management decided unjustly to send me on retirement. This dichotomy is very typical in the actual management. Unfortunately.
The advantage of this kind of situation is to make you face your destiny. One begins asking questions. And I convinced myself that I had another mission on this earth than to make money for people who already had a lot of it. In the circumstance, to put in perspective the appreciation of facts, especially those who dehumanize us. Actually, the importance given to information creates false realities, much of fake news. I wanted to say some things, articulate them so that everybody knows them.I am not able to write essays. That's too serious for me.
To be able to write, one must have things to say. And I have a lot, drawn from my life, my career. I lived in the Middle East, in Germany, in England, in the States and in Switzerland. I thought my life was interesting. I started with an autobiographic book that was worthless, there were tensions, anxiety, but it was very predictable. So I searched for new forms, new ways of writing. The mix between fiction and reality is an inexhaustible source of books.
I think I have a lonely side, and writing brings me calmness and paradoxically the agitation that seemed to lack in my life. But finally, I don't know why am I writing, it's to be certain to live. I like to express myself.
3-What does the book tell? One can interpret the Queen of Beirut in a thousand ways, it's a book on exile, not feeling at home anywhere. It is a love story, of treason and hope. It's a complex book, sometimes very crude and very hard as written by the president of a literary circle. He spoke of incomparable greatness of some personages, while qualifying them as pitiful. One cannot speak in other words of Lebanon, especially during the last thirty years.
We don't know Lebanon, we only show sufferings, horrors and destructions. There are many other aspects, namely the immense success of the Lebanese diaspora worldwide. I got inspired from an immense scandal, a big injustice, sacrificed generations, confused with delirium. I tried to repair the damages caused by some people, while unveiling the fragility of the world we live in.
4-Who are the story protagonists? At first the writer who has an important role, then layla, the Queen of Beirut, her son big financial crowned figure, and a shady minister, we cannot make things differently. But there is also the story told by a big filmmaker in the book. It was necessary because he has an important role, and as you know, Hollywood cinema shows everything very quickly. The protagonists imposed their rhythm. I had to follow.
5-Why did you choose this specific period of Lebanese history? I began the story in 1985, even if there are lots of flashbacks to the 70's, it is then that horror was at the climax. I remember a night at the nightclub of Printania hotel. The music was magnificent, the women competing about their elegance. At the end of the night we all danced in an unbridled manner. It's normal when we don't know what will happen, and the second day there was a carnage with tens of dead people. The horror reached its highest point, we were battling in luxurious hotels. The war horrors mixed to the happiness of knowing we are still alive.
6-Which analogy do you establish between the country's events and those of the book? I tried to make a big step with this fourth book, the one with the «story in the story». With important changes of perspectives, but always taking the events into consideration. So we will find the story of Lebanon, animated by protagonists with many changes in perspective, but the moral and war convulsions are omnipresent.
For instance, I mention a plane crash that for some had a capital importance for the country because if it hadn't happened the history would have not been the same. The crash is real, but the consequences are not proved.