Prestige issue 287-288, Dec. 2017-Jan. 2018
Of American origin, European culture, Lebanese by heart, Alice Bradley Eddé, who loves to travel, lives an eternal captivity since her encounter with the lawyer and businessman Roger Eddé, her husband. A captivity that she never regretted, since the two are partners of a great ambition, more than a couple, Alice Eddé tells her great adventure to Prestige.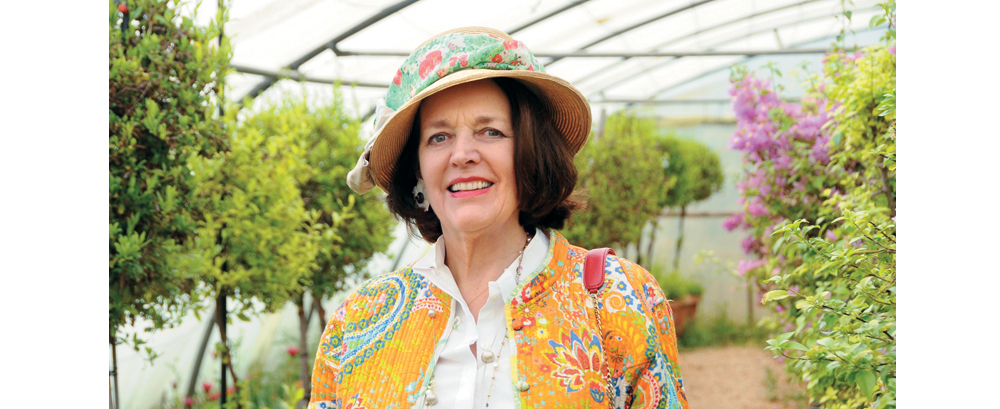 You traveled a lot, you are of American origin married to the businessman Roger Eddé…I am Lebanese of American origin from Saint Louis, Missouri, daughter of an officer who participated in the big wars of last century. My mother is the daughter of Sir Ronald Store. I studied at the Sacré-Cœur in Bonn, in Germany where I acquired a very solid education culturally and morally! I was part of all the activist campaigns of the period, «Save Venice» is what mobilized me. I worked at Time Life Books in Amsterdam showing interest in the old world! I traveled to Iran during the Shah's time, even to Afghanistan and I was getting ready to discover the East of the Mediterranean when I arrived to Lebanon to visit a friend who worked for National Geographic. She welcomed me at her place in Beirut where her husband was correspondent for the ABC TV! Thanks to Carla Hunt I met Roger Eddé, this young lawyer «from a good family, with an irreproachable morality»! It was so true that he was a «fine seducer» at a point that since our encounter in 1973 we were never separated. We became partners of great ambition, lot more than a couple married at 8h30 in the morning at the little church of Harissa with only 12 invitees to after take the plane at 15h to Paris where Roger was immediately taken by a business meeting. Our union was never shaken whatever the challenges of the political adventures of Roger or his weakness for the beauty and charms of nature! What we have in common was always more important than anything else.
When did you decide to live in Lebanon? From 1976 until 1998, we lived in four continents, simultaneously, in a voluntary exile from the country of cedars. Back to Lebanon, our first ambition was to promote and develop a high-tech and multimedia Global village in the historic region of the Eddé, Byblos, Bilad Jbeil!
Tell us about your investment projects…For the authenticity of the people of Byblos and this part of Mount Lebanon, we were, Roger and I, motivated by passion. The initiative aimed to put Lebanon on the regional and international touristic map, from Byblos. We began with Edde Sands and the Old Souk. We built and rehabilitated a seaside resort, in a place rich of 7500 years of history. At Eddé Sands a magnificent garden covers the space with water to plant aquatic basins, to swim. These gardens are planted with flowers! And the fruits like rosemary and other wild plants can be found. The Spa and Ayurveda are a secret paradise. At the Old Souk, a library is specialized in Jbeil and Lebanon. We were concentrated on the herbs of the region, plants, biological products. Musicians, international jazz nights animate the evenings in live, and we collaborate with Byblos festival, via Appia Byblos, the «green» farmers and producers. We also organize shows,outdoor and cultural days for children.
What about the restaurants? They are part of Byblos success. The Lebanese restaurant is at the entrance of the souk, Alice Eddé Garden Boutique facing it, than it's éChtar, the house of Jazz, and under a roof of bougainvillea, accessible to all, the Italian restaurant éL-Forno. And last but not least, the French restaurant éCafé and its red bar…
What did you prepare for Christmas? During three days, there will be an exhibition for designers at Alice Eddé, with live music and healthy drinks and less healthy ones!
What is Byblos for you? Byblos, it's the history and the cultural pluralism of what's more precious of the «Old World», in many aspects. Byblos is worthy of a lifetime engagement for me, as it is for Roger, to find his roots, his «Home sweet Home».