Prestige issue 289, Feb. 2018
Exhibition by Pr Bassam Lahoud
After spending three months in Kolkata on the invitation of the Indian Council for cultural relations, I find it difficult to summarize my experience in few lines. Three months in Kolkata were enough to sense what it feels to be one of its citizens, but it would require volumes of books to capture Kolkata's culture, heritage, people and architecture. This amazing journey across Kolkata's suburbs, heritage and museums is a sum of unforgettable moments fixed in the hard memory of my camera and the vibes of my vulnerable soul.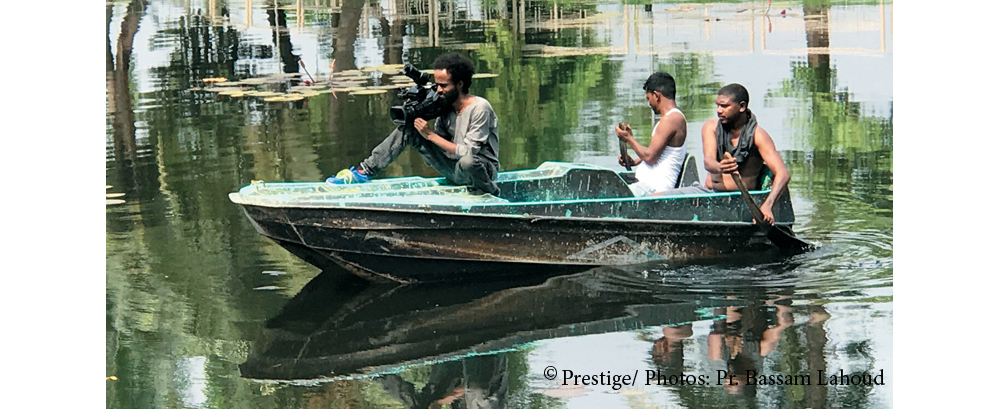 «Pr Bassam Lahoud travels far to bring us back samples of other peoples lives.»
Three months of documenting Kolkata's daily life and framing its people's truthful moments mysteriously awakened my dormant desires and longings. Kolkata weakened my professional defenses. Kolkata prioritized the captured moment over the capturing device. My mobile phone camera turned into a savior in the absence of my professional camera. At every corner, at any moment, my mobile was ready to fix forever those «magic moments» that I discovered in this true «City of Joy» as my heart named it. My stay in Kolkata was bigger than my archives! My Kolkata transformed into a virtual Facebook workshop for my professional photography community in both India and Lebanon. After staying in Kolkata for 3 months, leaving this city was heartbreaking. I felt so attached by its vibrating atmosphere, the hospitality and sociability of its citizens and its colors. This reminds me of the artist Paul Klee, who said, after seeing the colors in Tunisia: «I am a painter». In the same vein, I'd say, after seeing Kolkata, «I rediscovered myself, I am an artist».
A photo exhibition by Pr. Bassam Lahoud at Villa Audi, February 22-28 and at LAU Byblos March 8-14, organized by the Ambassador of India to Lebanon and the Lebanese American University.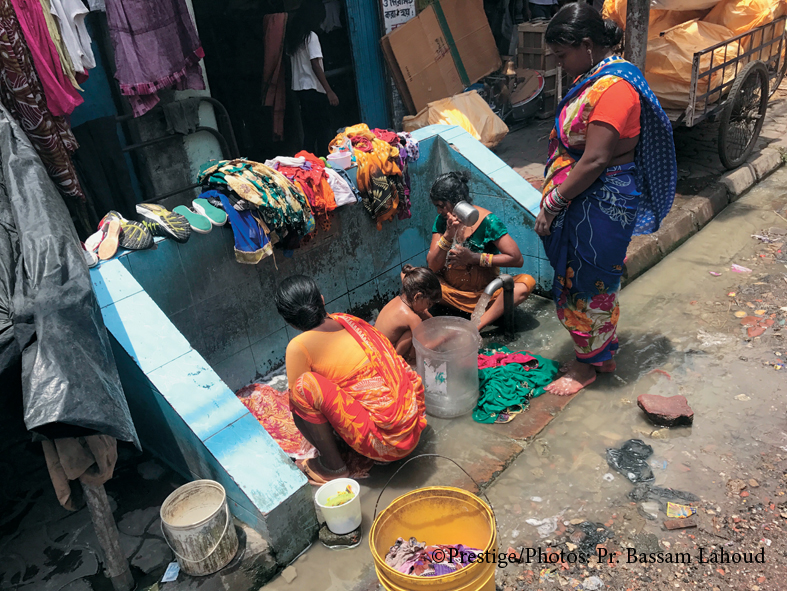 Born in Beirut, Lebanon in 1951, Bassam Lahoud received his Diploma in Civil Engineering (option Architecture) from the «Ecole Superieure d'Ingenieurs de Beyrouth»(ESIB), and later received a Master in Fashion Photography from the «Scuoladi Fotografia di Moda Click Up» in Florence, Italy. From 1983 until 1996, he taught Architecture & Photography at USEK, LAU, USJ, ALBA & NDU, & has been teaching Photography at the Lebanese American University since 1987.
Bassam Lahoud is a member of the Order of Engineers & Architects of Beirut, the Press Photographers Syndicate & the Union Catholique Internationale de Presse of Lebanon. He is the Chairman of «ESCWA Arts Council», founding member of Prestige Magazine and founder of «the Lebanese House of Photography». He was a member of many national & international juries of Photography & Architecture between 1982 & 2017.
Lahoud received the Spanish «Order of the Civil Merit, grade Commander» from King Juan Carlos of Spain & the Spanish Government and the Medal of Achievement from the Ministry of Culture of the Republic of Bulgaria. He represented Lebanon in many artistic & cultural events (Italy, Spain, Russia, Ukraine, Georgia, Japan, Great Britain, Madagascar, China, Canada, & USA), and was one of two non-European lecturers to participate at the European Forum «Regard & Vision» held in Lille, France as part of the Cultural Capital of Europe in 2004.
Lahoud held more than 50 exhibitions of his work in Lebanon, Tunisia, USA (Houston & New York), France (Paris & Lille), Czech Republic, Syria, Jordan, Germany (Frankfurt, Berlin & Erfurt), Italy, Bulgaria, Macedonia, Qatar, UAE (Dubai & Abu Dhabi). He is also co-author of 3 major publications: The Maronite Patriarchate, The Greeks & Phoenicians in Antiquity, and Brazil's Official Residences Abroad, as well as the editor of Amchit 1860-1960.
Lahoud visited Kolkata in India in the summer of 2017, on a Fellowship sponsored by Indian Council for Cultural Relations (ICCR). This book is a record of his photographic journey in this fascinating city.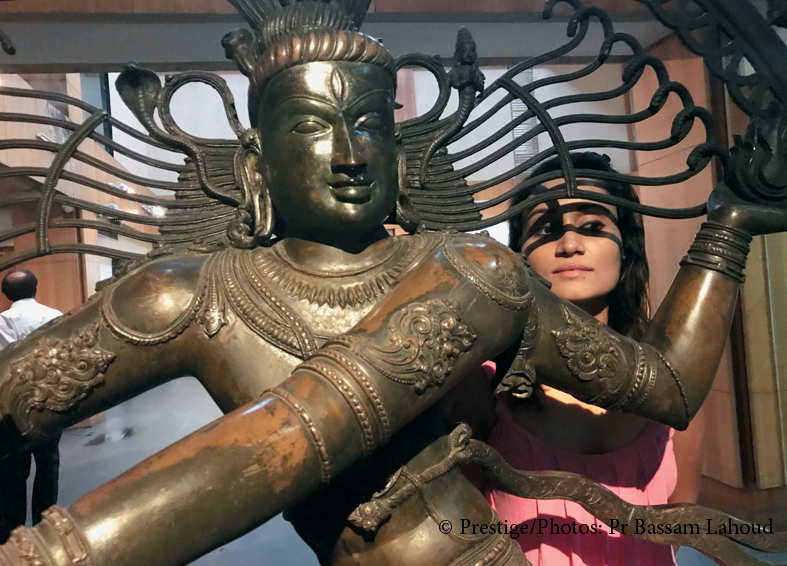 These pictures depict scenes by ordinary people carrying out domestic tasks in pubic.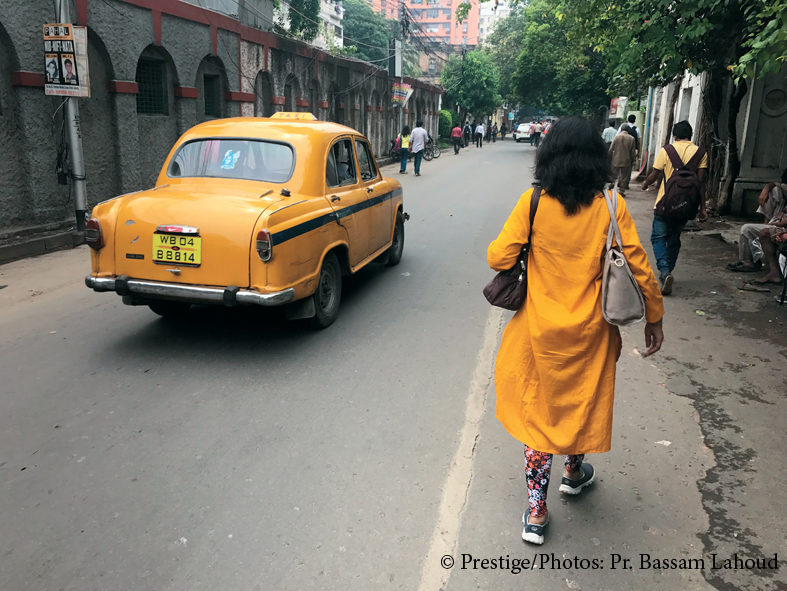 Kolkata through the photographer's gaze by Elie G. Haddad, Dean, School of Architecture & Design LAU.
The photographs of Bassam Lahoud betray the silent presence of a photographer who gets actively involved in the life of the people he portrays. Lahoud not only 'steals' these images out of the everyday life of people, he appears to be complicit in their lives, waiting for the propitious moment to catalog them in his visual archives. These images of Kolkata in India show us a world that is distinctly dynamic, colorful and diverse; from the figures of women carrying out domestic tasks in public, such as washing clothes, to that of nuns walking down a stairway, almost surreally suspended in space, as in a painting by Magritte. They evoke a world that is rich in contrasts and overlaps between the public and the private, where the 'human condition' is portrayed in its various forms, many of which attest to the difficulties of survival within a global economy. Yet these pictures also show the resilience of ordinary people, making up through their will to live for any missing luxuries and comforts. A good example of this is the beautiful image of the two ladies on stage, both wearing colorful dresses, in what appears to be a theatrical play in a simple setting. In many of these photos, especially those with children, we also witness the traces of an empathetic eye, which connects with the subject. These images bring to mind the words of Susan Sontag, who described the photographer as a «solitary walker, reconnoitering, stalking, cruising the urban inferno» and as a «voyeuristic stroller who discovers the city as a landscape of voluptuous extremes.» This characterization seems to describe well the approach of Bassam Lahoud, who travels far to bring us back samples of other peoples' lives.