Prestige issue 271, February 2016
Valentine's Day Special
Celebrated on February 14, Valentine's Day is the celebration of love and lovers, a relatively new festive occasion made fashionable by the Americans around the globe. The love proclaimed, externalized, would it have appeared in the modern world? No, it has always existed and will always exist. The Bible speaks of Abraham's love for Sarah, Jacob to Rachel, Samson to Delilah, Bathsheba and David and of the passion of Potiphar's wife to Joseph.
«I am you and you are me, we are one», say true lovers who feel a deep affinity between them, a common substance beyond their conscious persons. Love makes them malleable, they are melt together, transformed and stuck to each other. Aristophanes mentions this extraordinary experience in «The Banquet» of Plato, believing that humans once formed an indivisible unity that Zeus separated into two parts, one still looking for the other half- lost … Wanting to know the 2016 Lebanese opinion about the great feast of love, we listened and observed the responses of the heart, submitting to your attention these special Valentine opinions. For you, with love…
Amabassador Hassan Khalil and Roula Dia:
A double celebration with roses and prose poem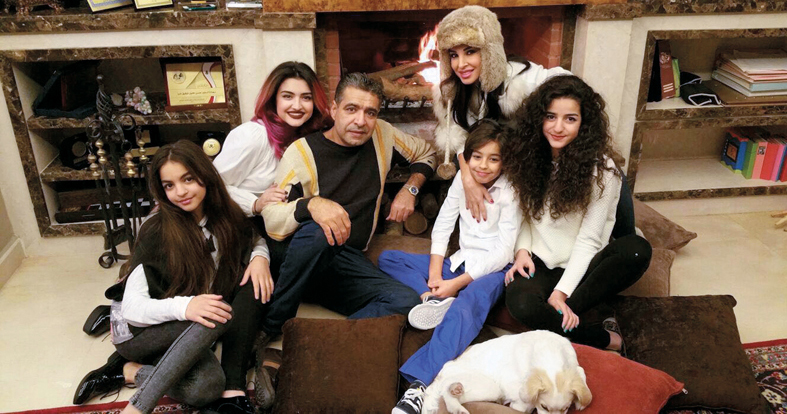 © D.R.
His Excellency Hassan Khalil Dia, Paraguayan Ambassador and his wife Roula are a very united couple, married on February 14 in Lebanon, 19 years ago. «Valentine's Day is a big day for us, it coincides with our wedding anniversary, they say together. We celebrate it with our four children who are the fruit of our love, our hope and our main goal.» On February 14th, Fatima, Hadil, Celyn and Ali Dia, each one of them offer a white rose to their mother while Mr. ambassador offers a red rose to his wife accompanied by a prose poem in which he expresses all his feelings, emotions and sensations. For HE Hassan Khalil Dia, «true love is serene, it is synonymous of tranquility and harmony. When the relationship is serious and deep, you want to be with each other all the time, in happier and less beautiful moments, we only feel good beside the loved one, with him, in peace, in harmony…»
Rony and Samia el Saouda: romantic dinner in
Tête-à-tête but no gifts
© D.R.
«Love is «what» unites two different people, a wonderful feeling that cements the couple» say in unison Rony and Samia el Saouda. He is an engineer, she is a dietician, they were married four years ago. Rony will come from Riyadh where he works to celebrate Valentine's Day with Samia in Lebanon. «Even if we can celebrate love every day, it's nice to devote a day with a big D as all other festive occasions. The romantic tête-à-tête dinner is required, to revive the sparkling first emotions.» Do they exchange gifts? «Not really, says Samia because it would tip the sublime feast on the business side.»
Norma Habis launches her CD «Over time»
On the occasion of Valentine's day
© D.R.
Poet, painter and pianist, Norma Habis believes that Valentine «is the renewal of love towards the dear ones and the beauty of nature.» Today alone, she shares the love inside her with people in love with beautiful music, through her CD entitled «over time» she launched on the occasion of Valentine's Day and that is already available in all «Virgin Megastore» branches. The CD is a variety of melodies and rhythms played by Norma, 11 different compositions of music (incense and jasmine, infinite sweetness, Tomorrow at dawn, Dialogue of the deaf…) made for a tête-à-tête of lovers, to slow dance and tango, to calm nerves, to dream with a chimney fire. «It is my state of mind that inspires me, commanding my fingers on the keyboard», says the sensitive Norma or «Nana» who dedicates her album to her children, her friends and all those who love romantic music. As long as inspiration flows, when will you make a collection of poems, dear Norma?
Marcello and Samia Khoury:
united for better and for worse
© D.R.
Love is when you feel «welded to the other» in the happy and less happy moments of life; it is to complete each other, live together the joys, sorrows, difficulties; it is this flow that makes one feel strongly united to each other for better or for worse» say Marcello and Samia Khoury married for five years. «Valentine's Day, we will spend it this year at home with our sons Charbel and Anis. The exchange of gifts is necessary, it «materializes» our love.»
Jo and Mireille Maalouf:
«What is Valentine's Day? Continue to believe and hope in love»
© D.R.
For the engineer Jo Maalouf and his wife the lawyer Mireille who soon will be celebrating their silver wedding anniversary, Valentine's Day is the beautiful expression of the continuity of hope in love. Jo says, «For nine years, Mireille came to spend ten days in February in Abu Dhabi where I lived, so that together we could celebrate Valentine's Day and my birthday which falls on February 11th. Going out for dinner and gift exchange is a constant, unconditional for us. A ritual that will continue this year God willing in the next country I will be visiting for my work».
Nadim Nehmé: a commercial feast
For the pharmacist Nadim Nehme, single, Valentine's Day is just a commercial day! «I've never celebrated it from the bottom of my heart, I was forced sometimes», he says. Love? «Essential in our existence». How does it translate? «When we feel the need to share everything with our partner, forming with him a compact community, a bound «us»; when we miss his presence terribly when he is absent, when he becomes essential for us».