Prestige issue 286, October 2017
At age 63, Carlos Ghosn, CEO of Renault-Nissan Alliance and Chairman of the Board of Directors at Mitsubishi Motors is a cosmopolitan Lebanese, as he likes to describe himself, difficult to classify this multilingual, multicultural manager in a certain category. He is called the «restructuring specialist», the «samurai», and he never thinks like others. His original and endearing personality, the events he courageously confronted and the image he reflects combine to build an unusual destiny. All these facts relate to his origins. There is also his presence, his strange look that immediately captures attention and his particular speech … He has no equal to clarify in a few words a complex situation. Mentality in the American style, discipline in the European style, he is direct, precise, no frills, allying grandeur and modesty. Let us summarize the journey of an exceptional Lebanese.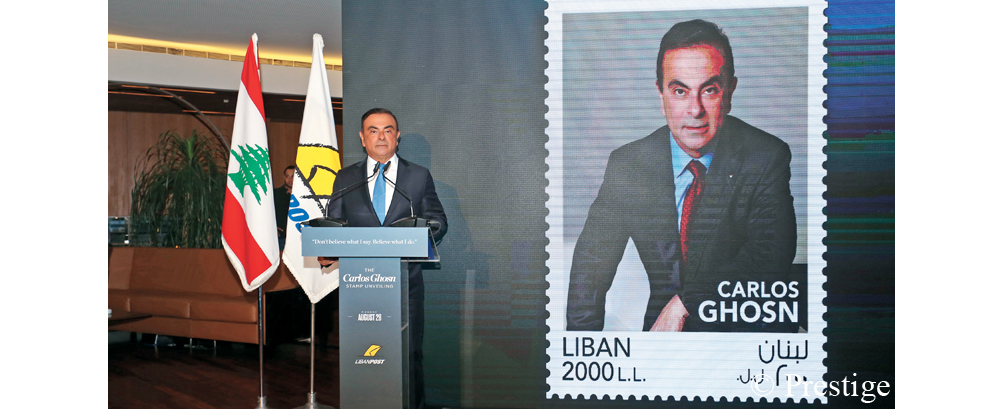 August 2017. During a grand ceremony, LibanPost unveiled the new stamp issued in honor of Carlos Ghosn.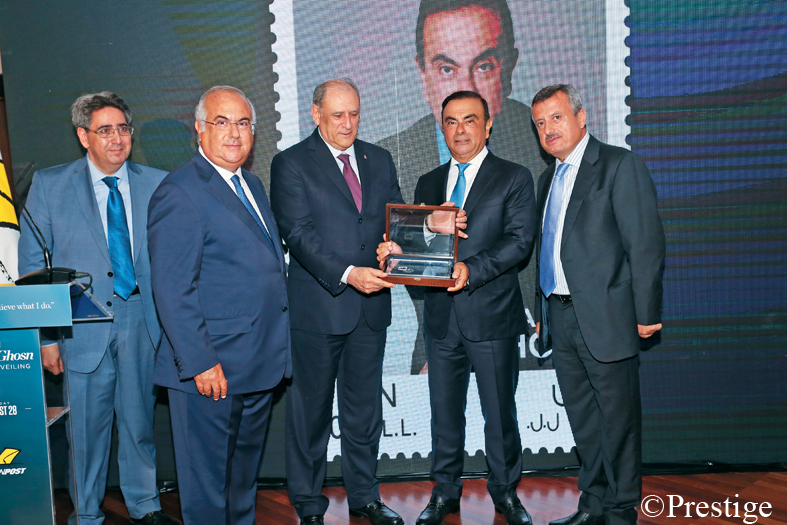 June 2000. During his first visit to Lebanon after his appointment as CEO at Nissan, Carlos Ghosn gave a press conference in the presence of the president of the editors syndicate, the late Melhem Karam and the Rasamny family.
June 2000. First encounter of Carlos Ghosn with Nissan agents in the Gulf countries, organized in the offices of TBWA/RAAD in Dubai.
January 2001. Carlos Ghosn was decorated by president Emile Lahoud with the insignia of Commander of the National Order of Cedar.
August 2001. Ramzi and Nimat Raad hosted a dinner in the honor of Carlos Ghosn at their Broummana residence in the presence of Lebanese Media.
May 2002. Carlos Ghosn is named «Advertising man of the year» at the international Congress of IAA in Beirut.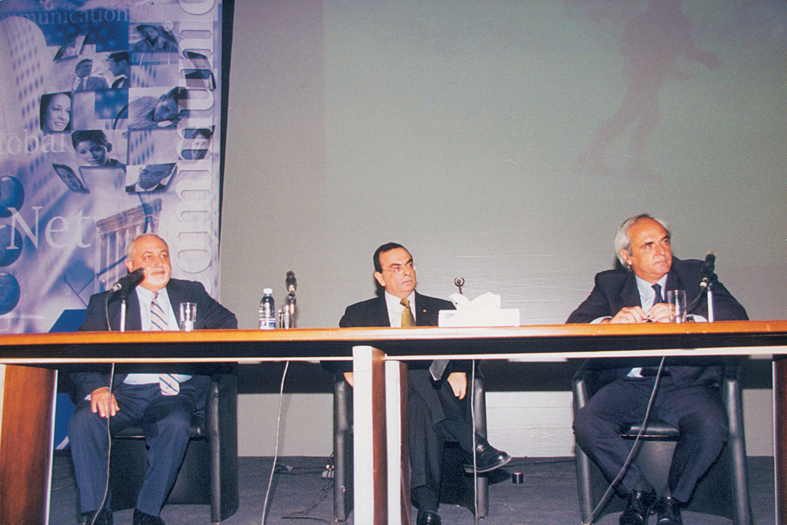 On this occasion, Ramzi Raad held a lunch in the honor of Carlos Ghosn at the Eau de Vie restaurant at Phoenicia hotel.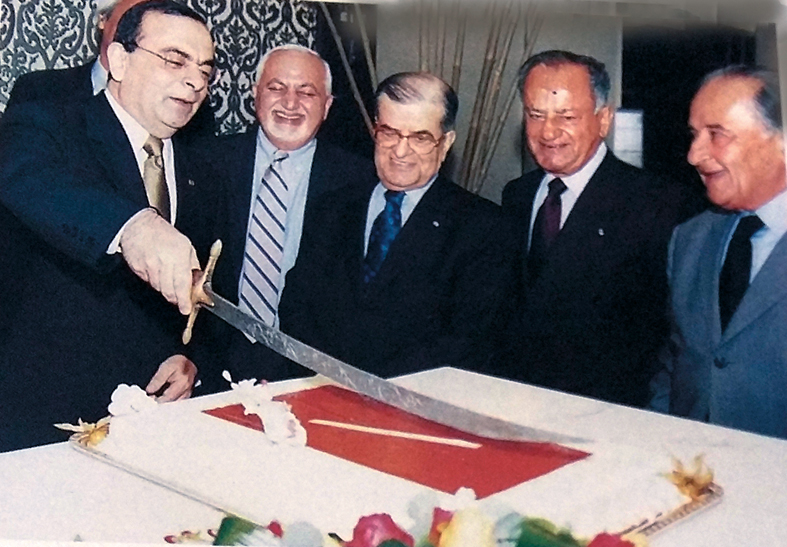 June 2003. The American University of Beirut granted a honorary doctorate PHD to Carlos Ghosn.
July 2003. Test Drive for Nissan Patrol in the Rub' al-Khali desert.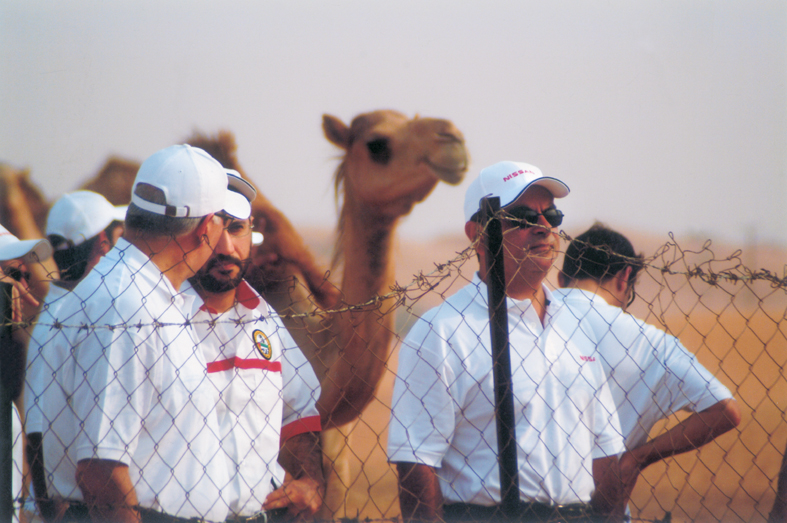 December 2003. Carlos Ghosn signing the book «The Turnaround» which tells how he managed to save Nissan from bankruptcy.
Carlos Ghosn visiting TBWA/RAAD in Dubai.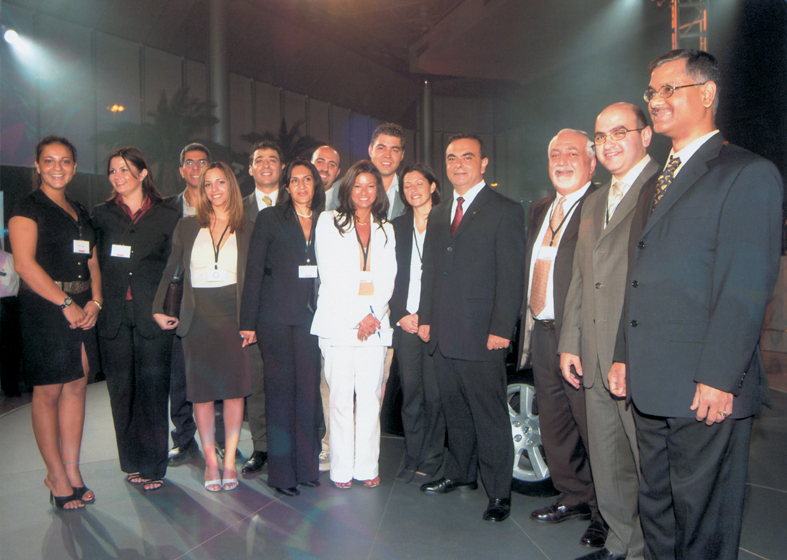 November 2006. Carlos Ghosn offered Computer Laboratory Equipment at the ND College of Jamhour, where he studied.
The story of Carlos Jorge Ghosn begins on March 9, 1954 in Porto Velho, Brazil, where he was born in a maronite family of Lebanese origin. At 2 years old, he falls ill, and remains ill until the age of 6, his mother decides to take him to Beirut. In Lebanon, he attended the Jesuit Fathers' school at the College Notre-Dame in Jamhour, until the end of his secondary studies. At the age of 16, he attended the Collège Stanislas and the Lycée Saint-Louis in Paris, the preparatory classes before joining the famous Ecole Polytechnique in 1974, then the Ecole des Mines in Paris, where he obtained the diplomas of engineer. In 1978, Carlos was recruited by Michelin, the European tire giant. A career of 18 years, during which he followed trainings in French and German factories. In 1981 he was appointed director of the Puy-en-Velay plant and in 1985 became head of the research department for industrial and agricultural tires at the Michelin Research Center in Ladoux, Puy-de-Dôme. Appointed head of Michelin's operations in Brazil, he was in charge in 1985 to redress a difficult situation due to an unfavorable economic environment and inflation. Carlos developed a recovery plan based on severe restructuring requiring the closure of two factories and downsizing the workforce, two core principles that he will apply in all of his reform plans. But rigid organization and cultural barriers were from his point of view far more important obstacles than the economic situation. Management teams of different nationalities and cultures are then trained to find the most effective solutions. In two years, Michelin's operations in Brazil return to profitability. The bases of the multicultural management style of Carlos are established. In 1989, he was appointed President and Head of Operations at Michelin in North America. He moved with his family to Greenville, South Carolina, and planned a year later to take Uniroyal Goodrich to Michelin. The merger with Uniroyal is burdened with debts for the French group, but Carlos is undergoing a severe restructuring, including a drastic reduction in the workforce. The result is surprising: Michelin becomes the largest tire manufacturer in the world.
In 1996, Carlos joined Renault as Deputy General Manager, responsible for the group's activities in Mercosur. In 1993, the group had failed in its merger negotiations with Volvo and was losing market shares, with a deficit of some 6 billion French francs. Carlos is drawing up a draconian plan to reduce costs, increase the range of cars and adapt the workforce. In early 1998, the French carmaker announced a profit of 5.4 billion francs and in July 2000, Renault and Volvo signed an agreement to create Volvo Global Trucks, which became the world's second group of truck manufacturers.
To form the Renault-Nissan Alliance, Ghosn managed in 1999 the acquisition of Renault's stake in Nissan at 36.8%, while keeping his position at Renault. Appointed Chairman in 2000 and CEO in 2001, he became the fourth foreign national to head a Japanese automaker after Mark Fields for Ford, Henry Wallace and James Miller for Mazda. At that time, Nissan Motors was on the brink of bankruptcy, with net debt of 2.1 trillion yen (over $ 20 billion). In October 1999, Ghosn embarked on a recovery plan for Nissan to return to profitability in 2000, an operating margin of more than 4.5% of sales and a 50% reduction in debt in 2002 In the event of failure, he would resign with the Board of Directors. Ghosn takes revolutionary decisions in Japan: involvement of all employees in working groups to find internal solutions, performance policy rather than lifetime positions, 14% reduction in the workforce, closure of five Japanese factories with disposal of assets. Despite an unfavorable international environment, in 2000 the group announced an increase of 134%. In 2003, the debt is fully repaid and a second three-year plan makes the Japanese firm one of the most profitable groups in the world with a profit of 3.8 billion euros.
In 2001, Carlos Ghosn was CEO of Nissan and on 6 May 2009, Chairman of the Board of Directors of Renault. In October 2016, he was appointed Chairman of the Board of Directors of the Mitsubishi Motors Group, aimed at restoring the Japanese group. Renault, Nissan and Mitsubishi are now the world's fourth-largest automaker after Toyota, Volkswagen AG and General Motors. So nineteen years after his arrival at Renault, seventeen years after taking office at Nissan, this entrepreneur, charismatic and ambitious boss, is indeed the only master at home. He admits to having "managed to marry different cultures: French, Japanese, Chinese, Russian and others …". "All this was made possible thanks to my Lebanese roots which allowed me from the beginning to accept diversity and difference to draw strength and wealth," he said. During a grand ceremony at the Yacht Club in Zaitunay Bay, LibanPost, the national postal company has unveiled the new stamp issued in honor of Carlos Ghosn, emblematic figure of a leader originating from the country of Cedar. Under the patronage of Prime Minister Saad Hariri, the event brought together a wide range of political and business personalities, as well as media and social figures around the CEO of Renault-Nissan and Mitsubishi Motors and his family.